The Latest Edition of E-News - UM Night at the Hickory Crawdads Game, a New Means Of Grace Episode, and more!
July 20, 2023
Quick
Links

Don't have time to read the whole email? Here's your quick summary.
?
United Methodist Night at the Hickory Crawdads Baseball Game
Mark your calendar for Friday, August 25th because it's United Methodist Night at the Hickory Crawdads Baseball Game! Get discounted tickets, free giveaways, fireworks, a UM choir singing the National Anthem, Bishop Carter throwing the first pitch, and more! More details coming soon.
?
?
?
UM Connection Rallies Around Franklinville UMC After Devastating Wall Collapse
On Thursday, July 6, a wall of the historic sanctuary of Franklinville UMC collapsed causing immense damage to the church building. Church members and at least eight United Methodist pastors from nearby congregations shared their presence and prayers. Neighbors shared food, water and hugs, including the very Good Samaritan who ordered a Domino's supreme pizza for folks at the scene. Emergency workers who rushed to the church on Thursday and those who demolished the sanctuary on Saturday did so with deep respect. Even journalists chipped in. One Greensboro TV newscaster reminded folks working outside the church to stay hydrated.
The United Methodist Foundation of Western North Carolina has set up the Franklinville UMC Relief Fund where you and/or your congregation can donate to help rebuild their sanctuary. You may give online at THIS LINK or send a check to:
United Methodist Foundation of Western North Carolina, Inc.
13816 Professional Center Drive
Huntersville, NC 28078
Memo: Franklinville UMC Relief Fund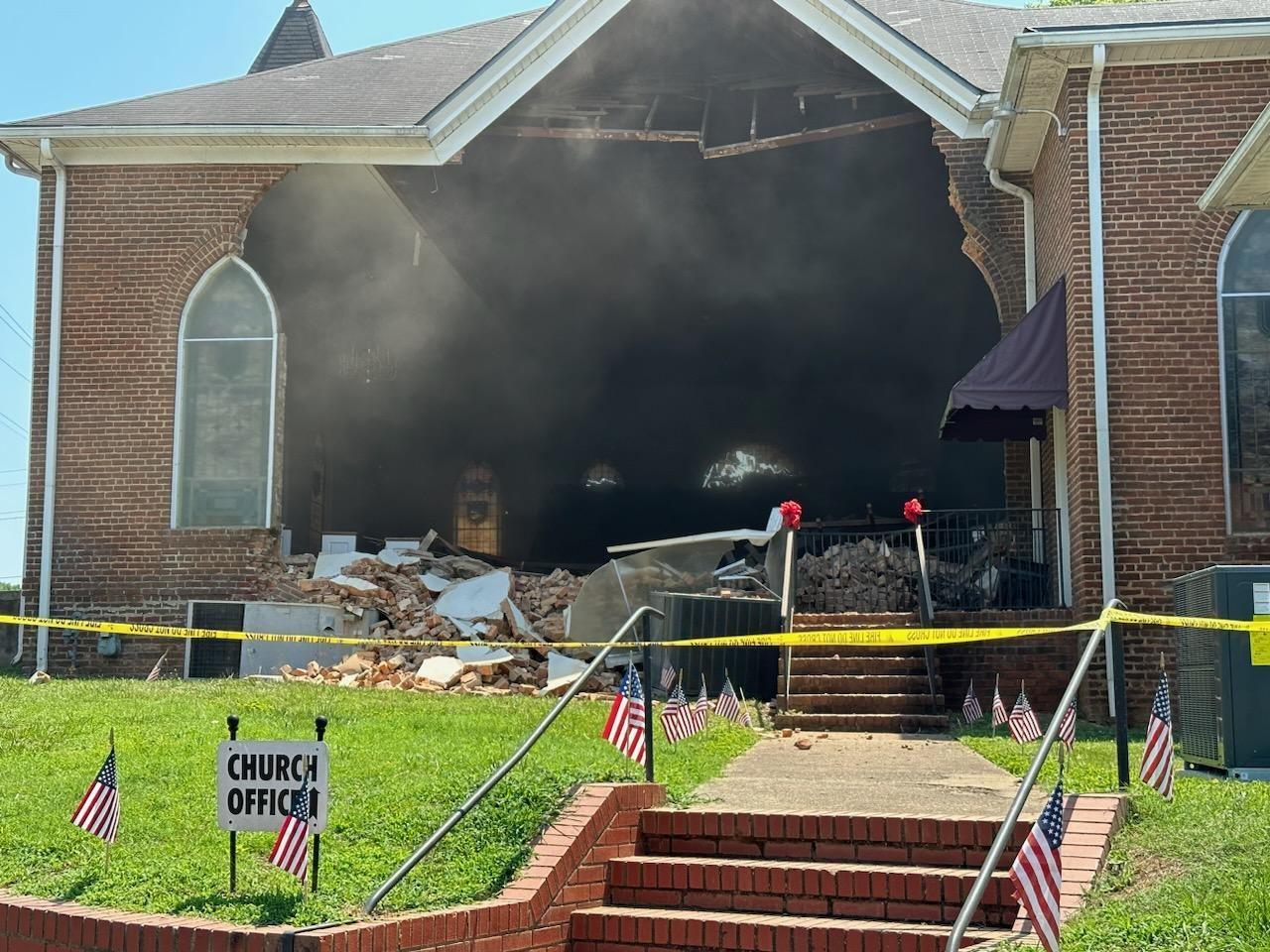 ?
Means Of Grace: Meditation with Rev. Jill Schneider Smith

In this episode, Rev. Jill Schneider Smith leads us through a practice of grounding and contemplation to care for our hearts, bodies, minds, and spirits in this busy summer season. Rev. Smith is the director of Flourishing Souls and is an ordained elder in the Western North Carolina Conference.

We hope this episode will bring you a few moments of calm and quiet to check in with your body and spirit.

?
WNCC Campus Ministers Attend United Methodist Campus Ministry Association Summer Institute at Duke Divinity School

From July 11-14, the campus ministers from all eight Wesley Foundations in the WNCC plus the chaplain from Greensboro College attended the UMCMA Summer Institute at Duke Divinity School. Our Board of Higher Education and Campus Ministry provided stipends for each campus minister to attend and receive continuing education, support, renewal as they prepare for another year of ministry with college students all across the Conference. They participated in workshops on topics such as mental health, working with churches, digital marketing, fundraising, spiritual direction, and vocational exploration with students. Campus ministries represented at this event were Wesley-Luther at UNC Greensboro, Appalachian Wesley at Appalachian State, Niner United at UNC Charlotte, Wesley Foundation at Western Carolina University, Winston-Salem Wesley Foundation at Wake Forest University, R.E.A.L. at NC A&T University, Common Ground at Lees-McRae College, Asheville Wesley at UNC Asheville, and Greensboro College.

Please be in prayer for these campus ministers throughout the year and for the students they serve! To connect a college student with a campus ministry, fill out this short form.
Social Media Workshop for Church Professionals

Our WNCC chapter of PAUMCS (Professional Administrators or the UM Connectional Structure) is sponsoring a learning opportunity for church secretaries, administrators, clergy, and anyone who wants to learn more about using Social Media to promote your church. Aimee Yeager, the WNCC Director of Communication, will be leading us in an informative workshop.

The workshop will be held on Thursday, August 24th, 10:00 AM - 2:00 PM at Williamson's Chapel United Methodist Church ~ Fellowship Hall 575 Brawley School Road, Mooresville, NC 28117. Cost is $15 and includes lunch.

?
Save the date for the Youth Ministry Training being held on August 19th from 1-4pm at First UMC Hendersonville! This is a FREE training led by Charlie Condor about healthy habits for longevity in ministry and the value of relational ministry. Refreshments will be provided. Options to gather for lunch before or hang out after the training will be available. Feel free to bring your volunteers!

?
Did you miss the last edition of E-News?
?
Season of Creation Workshop July 29th
Rev. Jarrod Davis, Creation Ministries Coordinator for the WNC and NC Conferences, will host a training workshop on July 29th related to the Season of Creation 2023 which is celebrated throughout the month of September. With both in-person and online options available, this workshop is open to anyone in the state. Register now to attend!
?
UM Foundation Grant Writing Courses Will Help You Find, Apply, and Get Funded
Ministry leaders from across North Carolina – particularly those with little or no grant writing experience – are invited to hear from experts and confer with peers. A series of events in August and September will help you step up your game in identifying prospective grants and writing competitive proposals. These events, offered in cooperation with the NC Rural Center, are designed for clergy, staff and lay leaders from the Western North Carolina and North Carolina Conferences.
?
United Way Awards $50,000 to 13 Local Food Pantries
United Way of Henderson County recently awarded $50,000 to 13 local public-facing food pantries and distribution sites, according to a news release. The funds were raised through a special initiative to help fight increasing food insecurity in the county. Two of these food pantries include Etowah UMC Fishes & Loaves Food Pantry and The Welcome Table at Hope United Methodist Church!
E-News is an email newsletter sent out by the Western North Carolina Conference of the United Methodist Church. It contains important news, stories, and events from around our conference.
Submit articles for the next e-news. Submit events.

Was this email forwarded to you?
Subscribe here to receive E-News in your inbox weekly!
?
Copyright © 2022 Western North Carolina Conference of the United Methodist Church, All rights reserved.

Where to find us:
Western North Carolina Conference
13924 Professional Center Dr, Ste 200
Huntersville, NC 28078

Mailing Address:
PO Box 2757
Huntersville, NC 28070

Phone: 704.535.2260