AC2023 News & Summary
June 20, 2023
Quick
Links

Don't have time to read the whole email? Here's your quick summary.

Annual Conference 2023 wraps up

at Lake Junaluska.

Connect

@ AC Friday Night Fun!

Commissioning the Lighthouse Churches and the Emerging Community Pastors.

Highlights from the Plenary Business Sessions.

Celebration of Life Worship Service with Preacher Rev. Laura Auten.

The Ordering of Ministry Service.

Closing Worship and AC2023 is adjourned.

Don't miss these upcoming webinars and events.
Annual Conference 2023 Wraps Up at Lake Junaluska
Thank you for joining us at Lake Junaluska for the Western NC Conference of The United Methodist Church Annual Conference 2023! Here are some updates, reports, photos, and more from the first few days of AC2023.
Connect @ AC Friday Night Fun
"We are called to connection." - Bishop Ken Carter
Connection is central to our tradition as United Methodists. Annual Conference is a yearly reminder that it is in our relationships with God and one another that we are fed and sustained for church leadership (whether we are clergy or laity). It was with this in mind that we hosted our second annual Connect @ AC, a series of social events on Friday evening where new and old friendships can form and grow. And did they ever!
We started off the evening with a bluegrass concert in the grassy courtyard between Stuart and Harrell. The laughter of children twirling ribbons and running around the bubble machine mixed with the music of the Wildwood Wanderers, a bluegrass band from First UMC Hickory. People of all ages listened to music and visited with each other.
Following bluegrass, Jennifer Bingham Hampton and Garrett Collins shared a little UMC camp culture with the rest of us by hosting a talent show. Folks young and old shared jokes, hula hooped, and sang. It was good for the soul to laugh together and see the children playing.
Brad Hinton led a group lesson on amateur radio. Despite some radio interference from the food truck credit card machine, they were able to send an email to a member of the group without using the internet.
Up at Lambuth Inn, Dan Pezet led over a dozen folks ages 9 to 60 through a Dungeons and Dragons quest. For some, it was their first time. One woman shared that she couldn't wait to tell her sons that she had participated. Everyone had a blast!
Just outside the Inn on Inspiration Point, Dawn Lynch led yoga surrounded by a panoramic view of the mountains. Lynch mentioned the sense of peace and connection the group felt together.
Over in Waynesville, Brian Mateer and the Missional Collective hosted an evening of jazz and justice with Greg Jarrell, vocalist Dawn Anthony, and the Carolina Social Music Club. Between music, readings, and singing, those who attended were inspired and challenged to create spaces for justice and belonging.
In the United States we are in the midst of an epidemic of loneliness. As we leave the Lake today, may we carry with us the connections (and reconnections) we've made here and may we be inspired to create places of connection in our communities.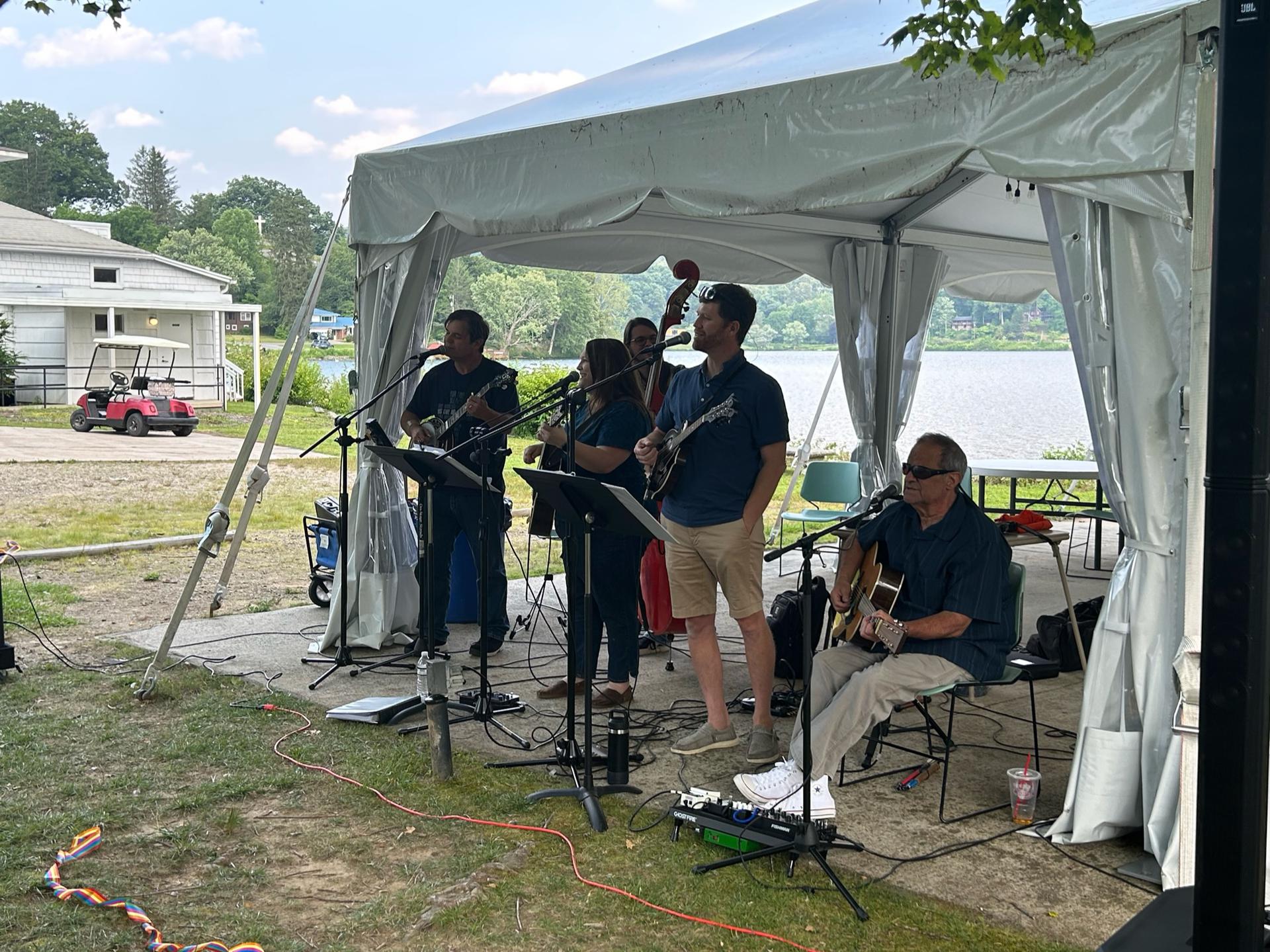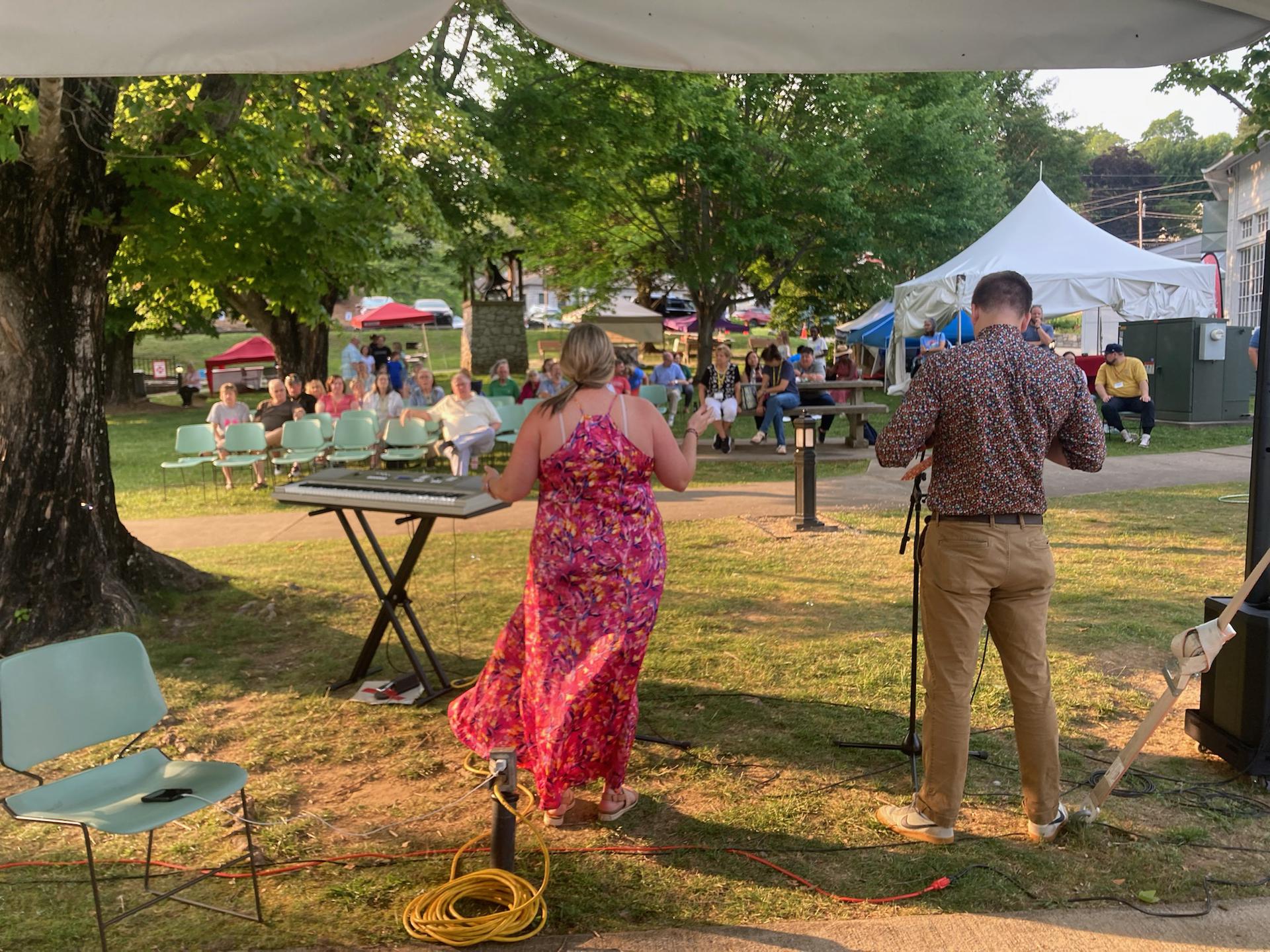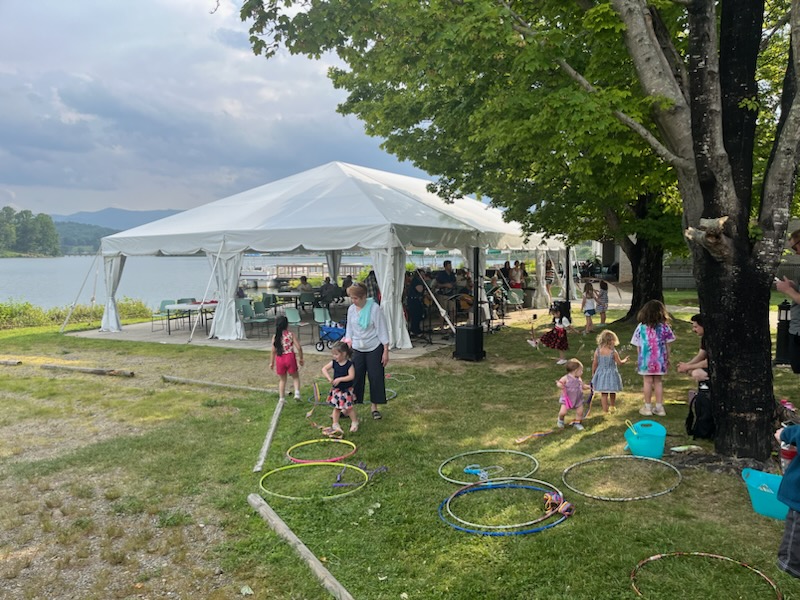 LIGHTHOUSE CHURCHES & EMERGING PASTORS

Commissioning Lighthouse Churches and Emerging Community Pastors

On Saturday of Annual Conference 2023, Bishop Carter and the gathered body paused the task of business to commission a fleet of Lighthouse Congregations and Emerging Community pastors. Both new initiatives have arisen out of the pain of disaffiliation in our Annual Conference.

Lighthouse Congregations are a part of the UM Collective Movement in the Western NC Conference. These congregations are particularly equipped to welcome anyone whose church has closed or disaffiliated. If you find yourself in these circumstances, we first want you to know that we see you. We love you. And we will help guide you. A Lighthouse Congregation is a United Methodist faith community that will serve as a resting place with people who will care for you while providing a haven of peace and grace. Whether you are an individual or a group of people who have become displaced or churchless because of closing or disaffiliation, Lighthouse Congregations will be there for you during this difficult time.

There are currently 86 Lighthouse Congregations in the Western NC Conference. You can find a full list of Lighthouse Congregations here and learn more about this ministry here.

The other exciting new ministry for United Methodists in Western North Carolina is the creation and commissioning of 16 newly commissioned Emerging Community Pastors.

Rev. Rob Hutchinson, WNCC Director of Church Development, introduced this new ministry appointment saying,

"The WNCC has a unique opportunity to intentionally strengthen our connection by co-creating new United Methodis places for discipleship, worship, and mission, increasing our community impact across North Carolina…

…Emerging Faith Communities are places within the bounds of our Conference where we will have the opportunity to experiment with new ways to reach and to gather God's people and journey with them into a United Methodist way of life together….

…While experimenting with the role of a 'Modern Day Circuit Rider,' Emerging Community Pastors will approach their appointed communities by exploring the question, 'What does a healthy, vital United Methodist presence look like in this community?"

Rev. Laura Auten, who has served as the Uwharrie District Superintendent for the past eight years will now be serving South Point UMC in Belmont and as the Emerging Community Pastor for the Belmont/South Point Emerging Community.

"To begin in ministry as an emerging community pastor is to step into a new beginning," Rev. Auten reflected, "to be an instrument of healing and hope."

Serving this year as the inaugural class of Emerging Community Pastors are:

· Brad Nidiffer - Christ Boulevard - Scott's Chapel (Statesville) – North Iredell County Emerging Community

· Jeff Hamrick and Todd McCullough - Troutman Charge (First, Wesley Chapel, Emerging Community)

· Lucy Robbins – Biltmore (Asheville) Emerging Community

· Kent Smith – Pensacola Emerging Community

· Amy Vaughn – South Catawba/East Lincoln Emerging Community

· Laura Auten – South Point – Belmont Emerging Community

· Eddie Padgett – Upper Cleveland Emerging Community

· Stephanie Moore Hand – Homestead and Steele Creek Emerging Community

· Angela Burris – Midland/East Mecklenburg Emerging Community

· Rick Jones – Waxhaw Emerging Community

· Andrew Baten – Southeast Guilford Emerging Community

· David Talbert - First Street (Albemarle) – North Stanly & South Davidson Counties Emerging Community

· Suzanne Michael – Davie County Emerging Community

· Susan Ewing – North Davie County Emerging Community

· Rebekah Ralph – Shoals Emerging Community
Celebration of Life Worship Service with Rev. Laura Auten

On Saturday morning, June 17, 2023, the Western NC Annual Conference gathered to remember the lives and ministries of 64 clergypersons and clergy spouses who have passed away within the last year – remembering each of them by name, lighting a candle and ringing a bell for each one.

In this sacred space of remembrance, we found strength in unity and discovered the power of love's enduring presence. Together, we held hands, shared comforting words, and created a support network that will continue to uplift each other long after this service.

Rev. Laura Auten preached a message titled "In a Window, Dimly". She spoke about Love and how even after the physical body is deceased, the soul and love are still there. Love is what never ends.

Love, a force that transcends time and space, holds within it a power that never fades away. Love never ends, for it is not bound by the constraints of mortality. It is a timeless energy that flows through our hearts, connecting us all in a tapestry of compassion and understanding.

Our hearts are with those who lost loved ones, friends, colleagues, and others this year. May we always remember the love they shared with us throughout their lives and beyond. Thanks be to God.
Ordering of Ministry Service

The 2023 Ordering of Ministry Service opened with the VocalSpace group performing with beautiful harmonizing music as the congregation took their seats. All the families, friends, colleagues, and supporters excitedly anticipated the procession of all those to be licensed, ordained, and commissioned along with their mentors.

There was 1 Candidate to be Consecrated as a Deaconess, 10 Candidates to be Licensed as Local Pastors, 10 Candidates to be Commissioned as Provisional Members, 2 Candidates to be Ordained as Deacons, and 7 Candidates to be Ordained as Elders. All 30 people stood to be presented before the congregation and The Annual Conference.

Bishop Carter preached a message on Call and Connection. "A Call is a voice and an insight that comes from within us, from God." As Bishop continued his sermon, he spoke to the Ordinands: "It took you years to get here. We call that formation. Formation is life long. It NEVER ends."

Bishop recalled his Spiritual Leader saying, "This is more important to God than it is to you." He emphasized how important this work is and how much of an impact these candidates for ministry can and will make on the people of The United Methodist Church and beyond.

As Bishop Carter finished his message, he concluded, "You cannot love God if you do not love your neighbor. We are called to connection. You are called to connection."

The service continued with the official Consecrating of the Deaconess, Licensing of Local Pastors, Commissioning of Provisional Members, Ordaining of Deacons, and the Ordaining of Elders. The congregation celebrated with their fellow siblings in Christ who received the apostolic tradition of the laying on of hands by Bishop Carter, Bishop McClesky, Bishop Kammerer, and Bishop Leeland.

All 30 newly Licensed, Commissioned, Consecrated, and Ordained persons were sent forth for ministry in the world by Bishop Carter and The Western NC Annual Conference of The UMC. A huge congratulations to all the new clergy in our conference! May God be with you every step of this new journey!
Did you miss Friday's edition of E-News?
Plenary Business Sessions of the Annual Conference
Foundation announces largest ever gift to Conference
Acting on its commitment to be a faithful partner in a season of change, the Foundation on Saturday announced its largest ever contribution toward Conference initiatives.
This year's tithe (from the Foundation operating budget) of $176,000 goes into WNCC operating receipts. In addition, the Board of Directors designated $79,000 from 2022 Excess Operating Cash to support the WNCC Bishop's Initiative, bringing the total to $255,000.
"This is an overwhelming gift – a quarter of a million dollars," Bishop Ken Carter told attendees following the Foundation's Annual Meeting of the Membership. "Not every Foundation across the Church does this, and we do not take it for granted."
It's among many ways the Foundation sought to live into its calling. Board Chair Anne Martin and President David Snipes shared several highlights:
· Despite a challenging year for the financial markets, the Foundation's fund options outperformed their benchmarks thanks to investment strategies that have helped us become one of the leading Methodist foundations in the Connection.
· The UMF Development Fund reached 48 loans in service and an all-time high of more than $25 million out the door and into the world to help United Methodist partners build, renovate, acquire land, or refinance existing debt.
· Leadership programs offered through Reynolds Ministries created safe spaces for clergy to confer, collaborate and perhaps commiserate, while the Reynolds Ministry Fund awarded $375,000 in grants to 29 different communities.
"This is a place focused not just on doing good today or tomorrow, but on doing good for the generations who will come after us," Anne told clergy and lay delegates. "We are here—together—for good. And with your help, by allowing us to be in partnership with you, we'll remain that way long into the future."
2024 Conference Budget
In the Saturday morning business session, Annual Conference delegates approved a 2024 budget that reflects the challenges of an uncertain economy and a season of disaffiliation in the United Methodist Church.
Due to reports from many general agencies who say they are reducing their budgets significantly, the Council on Finance and Administration (CFA) recommended the Conference reduce said budget from GCFA by 8%. Many other annual conferences are adopting this approach. Furthermore, the Conference apportionment segment of the budget is almost 3% reduction from 2023.
It is anticipated that some 190 congregations will be disaffiliating with the Western North Carolina Conference and The United Methodist Church in 2023. Because of the requirements of 2553, one year's advanced payment of apportionments must be paid prior to disaffiliation. The total amount to be collected is approximately $1,880,000. CFA believes this should be rightly applied to the 2024 proposed budget and thus reduced what is apportioned to the remaining WNC churches.
CF&A strives to balance the needs of local congregations and needs of the annual conference. In 2022, 77% of all congregations of our conference paid 100% of the total amount apportioned.
Balancing the budget is a difficult task. "We work really hard, and drink a lot of coffee, while recognizing that the best location for ministry happens in our local churches," said Dr. Irish Spencer, CF&A President.
Lay delegates elected
Lay members on Saturday elected three lay delegates to the Jurisdictional Conference.
These elections are to replace laity who resigned from the 2020 delegation, elected in 2019. Due to COVID, the meetings were postponed until 2024. The three lay delegates are being selected to serve at the Southeastern Jurisdictional Conference on July 10-12, 2024 at Lake Junaluska.
The delegates are:
Joseph Navarro, Harrison UMC (Pineville), Metro District
A 20-year-old Latino-American, Joe grew up at Harrison UMC and now attends Wofford College, a United Methodist institution in Spartanburg, SC.
Joe served on the Youth Council for five years at Harrison UMC. Since 2022, he has been a Lay Delegate to Annual Conference. He also has served on the Conference Council on Youth Ministries (CCYM) since 2018 and was president from 2020-2021. At Wofford College, he is active the Wesley Fellowship campus ministry.
"I will bring youthful and fresh insight into the various topics and issues that matter to our church," he said. "I want to help the church move forward positively so that all who wish to be part of the UMC will find a welcoming home filled with love and acceptance."
Shareka R. Brown, St. Paul UMC (Winston-Salem), Yadkin Valley District
A lifelong United Methodist, Shareka grew up in Winston-Salem with an identical twin sister, Tameka, as the youngest of six children. Shareka taught in Forsyth County Schools and currently works in student services at Davidson-Davie Community College, where she helps first-generation, low-income, and students with disabilities to excel in their educational journeys. Shareka holds several leadership positions at St. Paul United Methodist Church, including as a Voting Member representing the Southeast Jurisdiction on the National Connectional Table.
"Together as the church, as the body of Christ, we are stronger," she said. "I will bring diversity, my spiritual gifts of administration, healing, and leadership."
John Barbee, Collins Grove UMC, Northern Piedmont District
A devoted father and grandfather, John is a member of Collins Grove UMC in Greensboro, where he has chaired the Church Council for the past 10 years. John retired as Senior Vice President of Sales and Marketing at Banner Pharmacaps, a pharmaceutical company.
"We need to move past disaffiliation and toward affiliation," he said. "Stop separating and putting children of God into separate buckets. We should have open arms for all."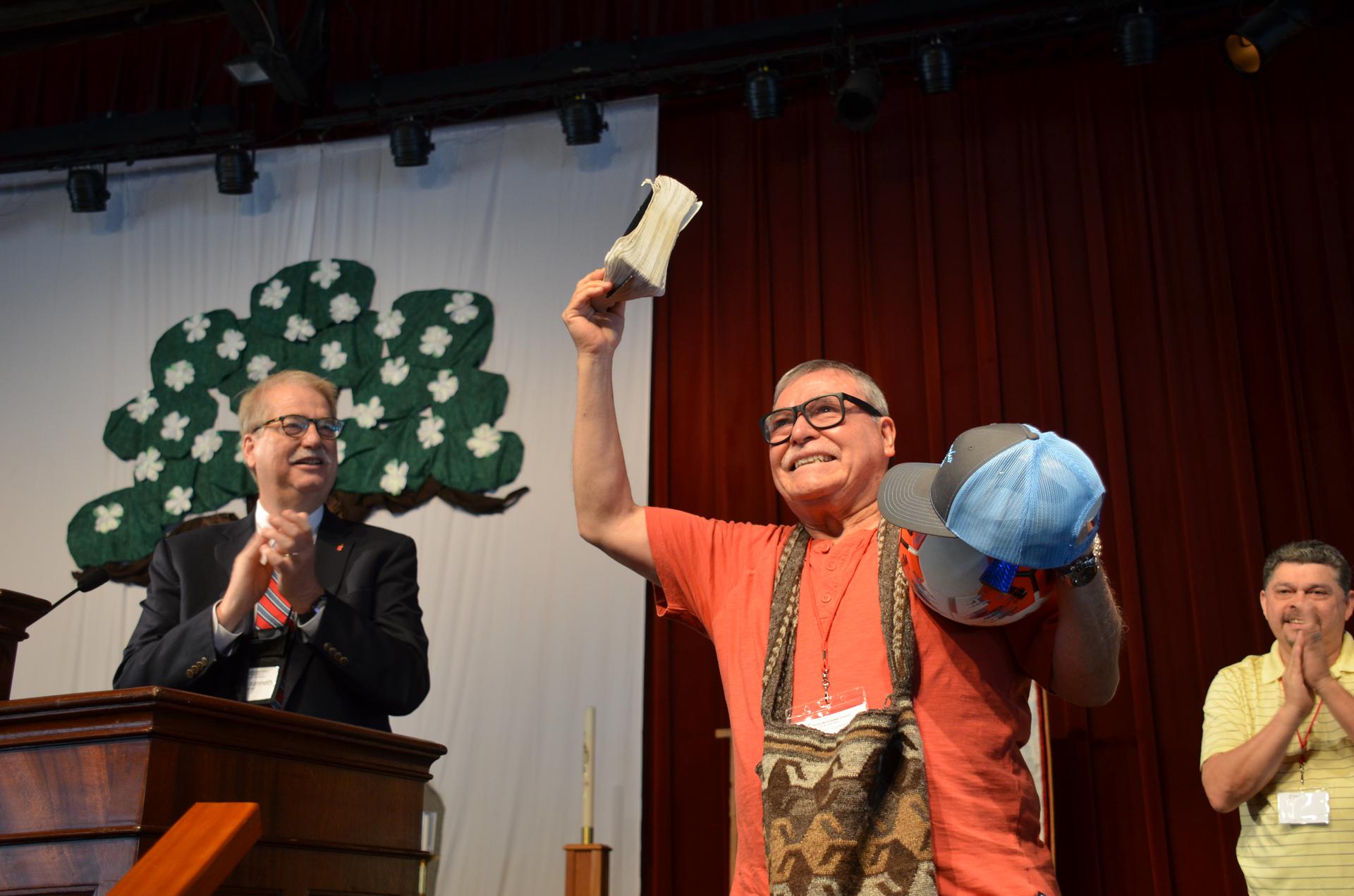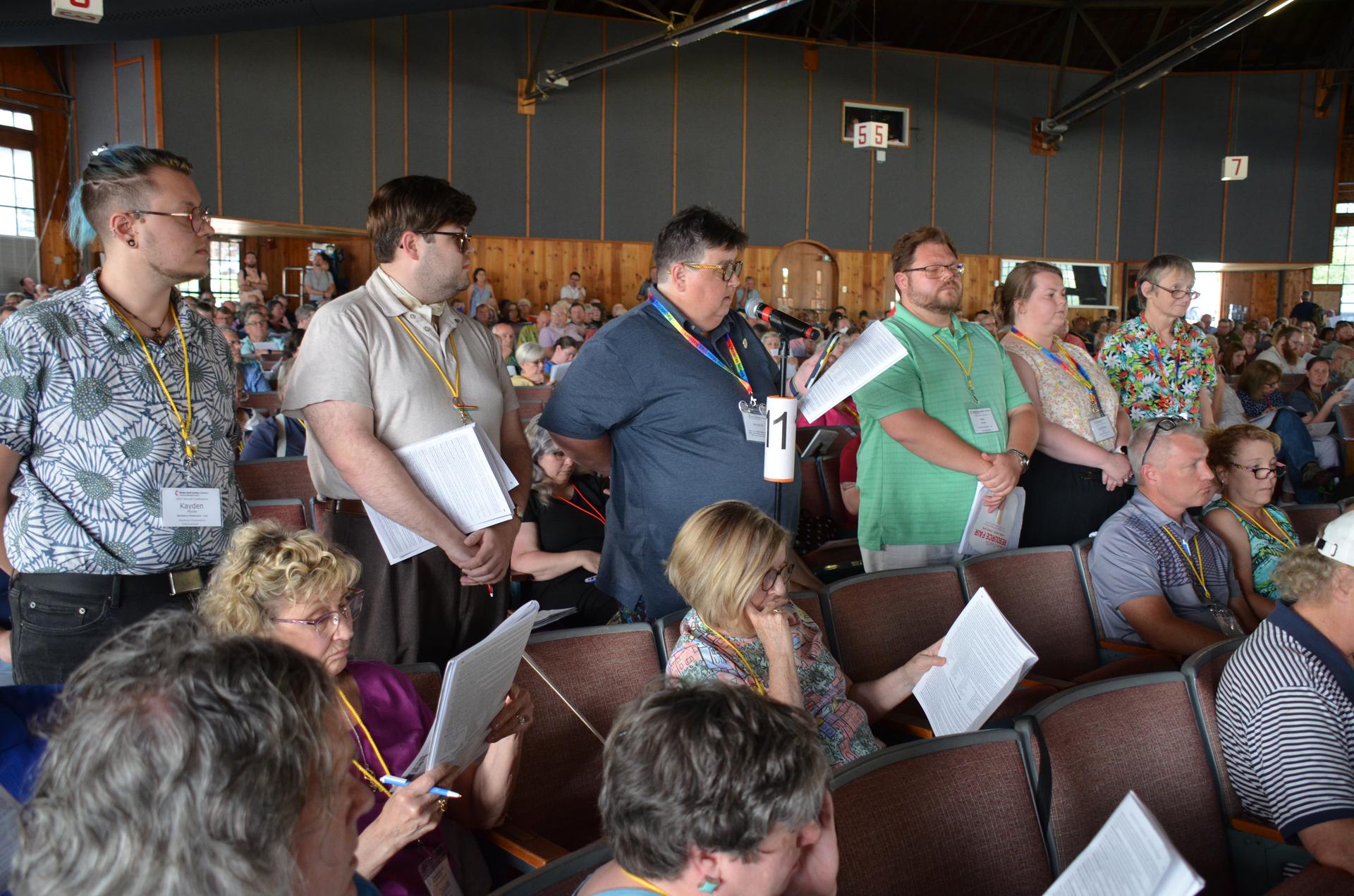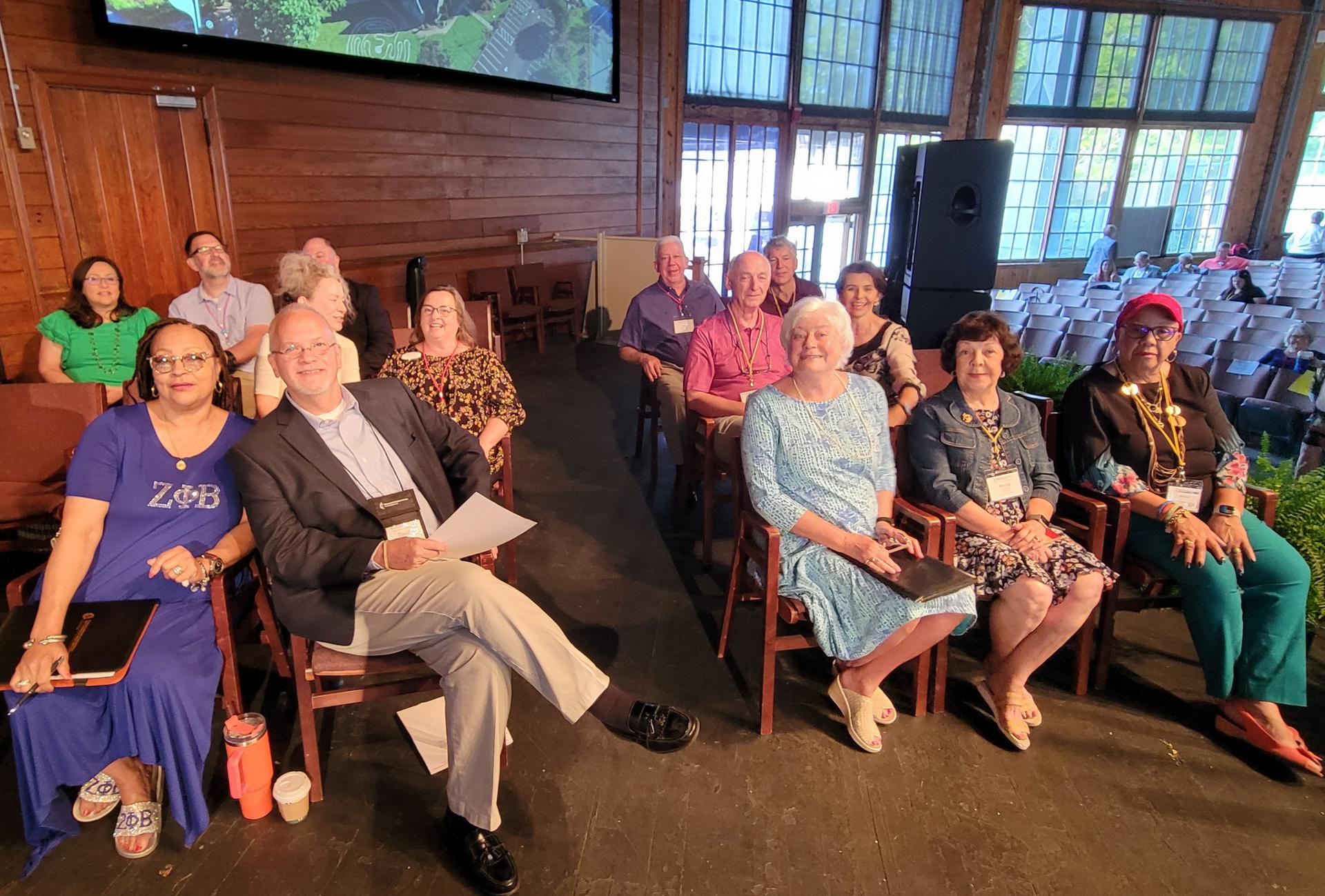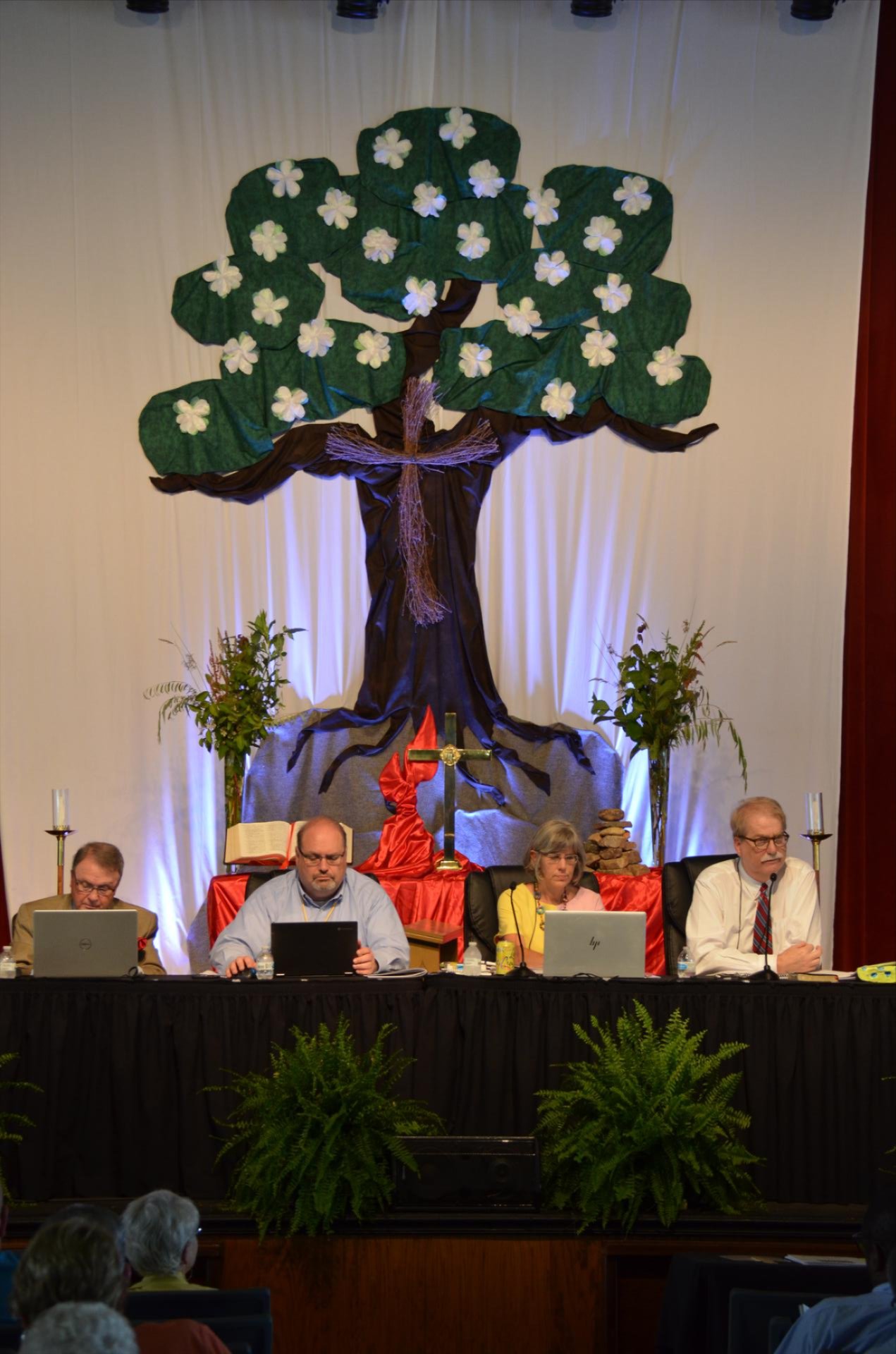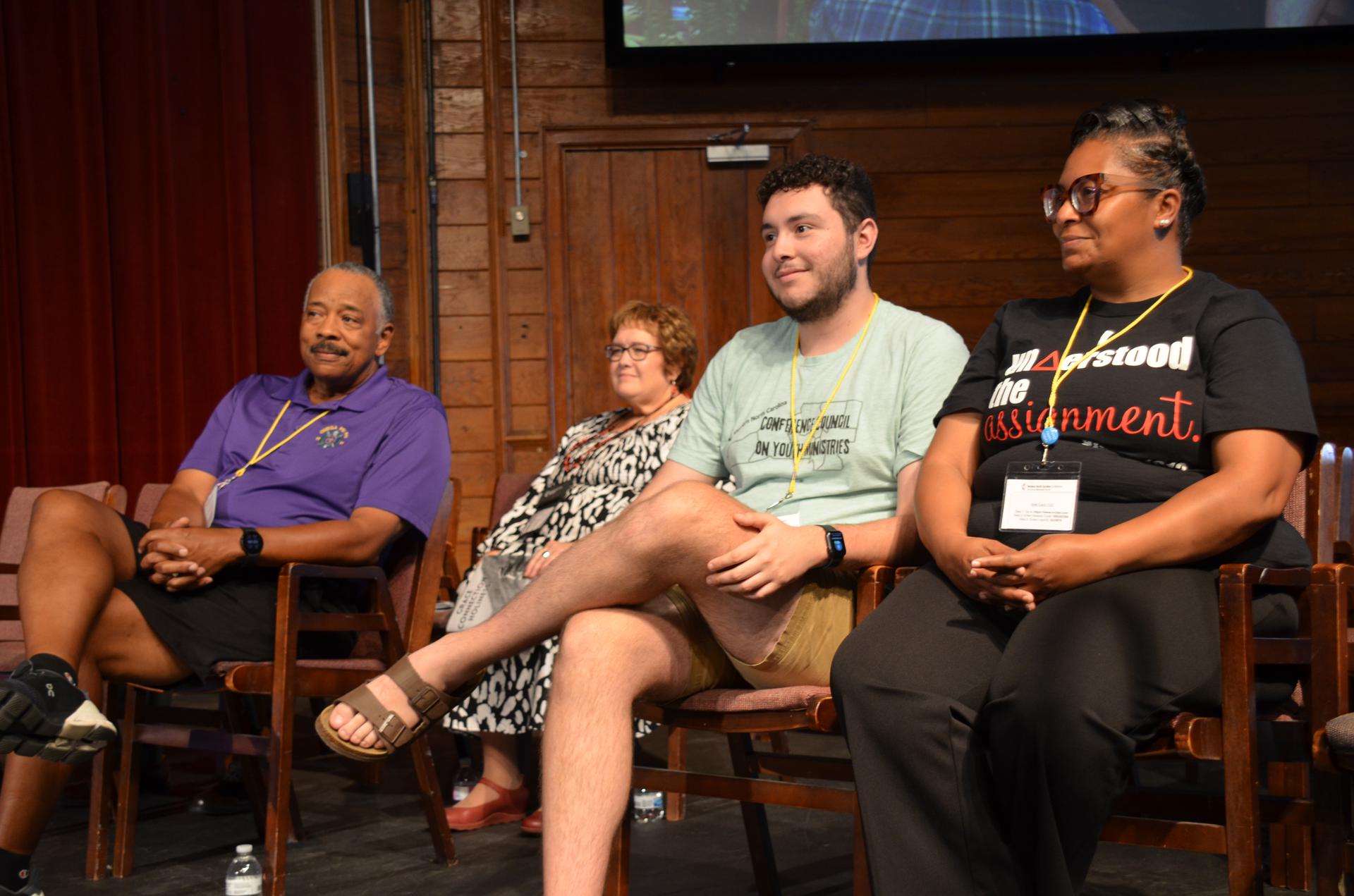 ?
Closing Worship with Bishop Carter

Annual Conference 2023 came to an end with a moving and powerful hour of worship in Stuart Auditorium on Sunday morning. The Martha Bassett Band and VocalSpace opened Closing Worship with gathering music representing the folk sounds from the mountains and classical sounds from the Piedmont. As the congregation was called to worship, the gathered body acknowledged the winds of the Holy Spirit coming in from all four directions – from the East, suggesting potential, from the South encouraging growth, from the West, expressing power, and from the North denoting wisdom.

Closing worship focused on the theme of Ebenezer, the tower of rocks commemorating Divine assistance. The word itself, ebenezer, meaning "stone of help" in the Hebrew language.

After a prayer of intercession brought by Dr. Andrea Johnson, the body was brought to their feet by the Spirit-filled anthems performed by VocalSpace, a group from Asheville directed by Dr. Melodie Galloway, professor of music for the University of North Carolina Asheville.

Bishop Carter brought a message to the Conference titled, Holiness and Mission, saying "Nothing is sacred but the Mission."

"Being a neighbor means being a Church that does not exclude anyone," Bishop Carter said. "[A Church] that welcomes immigrants, that reckons with racism and that welcomes people from across the political aisle from where we may be sitting. It means to see the Image of God in all people."

"Being a neighbor may be the most powerful form of evangelism we have now," Bishop Carter emphasized. "By teaching me to love my enemy, and Jesus did teach that, I am formed into a holiness without which I cannot see the Lord."

As we moved from worship to the sending forth, Bishop Carter commissioned the District Superintendents, fixed the appointments, and charged the laity, Deaconesses, Home Missioners, and Diaconal Ministers.

Recognizing how difficult and painful the last few years have been for the people of the Western North Carolina Conference, through pandemics, loss, lawsuits, and disaffiliation, we have hurt, grieved, and wrestled with deep loss.

"We have been through an extended period of hardship, challenge, grief, and trauma… and you have absorbed all of this," said Bishop Carter. "So, we want to offer a simple invitation as we prepare to depart."

Around Stuart Auditorium, leaders of clergy and laity stepped into their stations with anointing oil in hand. As VocalSpace sang Christ Alone, clergy and laity gathered for worship stepped out into the aisles to be anointed for healing and blessing. Around the auditorium were whispers of "May God heal you in the ways you so deeply need," and "May God bless you for the work of caring for God's people as you seek to serve God in all you do." Hands were held, tears flowed, and prayers were said as the people of the Western North Carolina Conference released all that has broken their spirits over the last several years and accepted God's grace and healing for the good work God is already accomplishing and is yet to accomplish through the members, churches, and ministries of the Western North Carolina Conference of The United Methodist Church. All thanks be to God.
E-News is an email newsletter sent out by the Western North Carolina Conference of the United Methodist Church. It contains important news, stories, and events from around our conference.
Submit articles for the next e-news. Submit events.

Was this email forwarded to you?
Subscribe here to receive E-News in your inbox weekly!
?
Copyright © 2022 Western North Carolina Conference of the United Methodist Church, All rights reserved.

Where to find us:
Western North Carolina Conference
13924 Professional Center Dr, Ste 200
Huntersville, NC 28078

Mailing Address:
PO Box 2757
Huntersville, NC 28070

Phone: 704.535.2260
AC2023