Annual Conference News - Friday, June 16, 2023
June 17, 2023
Quick
Links

Don't have time to read the whole email? Here's your quick summary.

Annual Conference 2023

kicks off at Lake Junaluska.

Read Bishop Carter's Reflection with the Clergy Session of AC2023.

Celebrating the 2023 Ordination and Commissioning classes.

Opening worship with guest preacher Rev. Dr. Candace Lewis, President-Dean of Gammon Theological Seminary.

Recognizing the Retirees of the WNCC.

Check out the Resource Fair while you're at AC2023.

Highlighting moments at AC2023.

Don't miss these upcoming webinars and events.
Annual Conference 2023 Kicks Off at Lake Junaluska
Thank you for joining us at Lake Junaluska for the Western NC Conference of The United Methodist Church Annual Conference 2023! Here are some updates, reports, photos, and more from the first few days of AC2023.
CLERGY SESSION REFLECTION
Bishop Carter's Reflections with the 2023 Clergy Session of the Western North Carolina Conference of the United Methodist Church
"I want to begin by saying 'thank you' to the clergy of the Western North Carolina Conference. We have lived through, we are living through the effects of a global pandemic—seven million people have died, our patterns of gathering have changed, we were not able to celebrate important events in our lives together—births, graduations, marriages, retirements, deaths—and the pandemic exaggerated fault lines in our culture and communities. This alongside the polarization of our national politics—-the first violent transition of presidential power in my lifetime, not peaceful, not non-violent but one that led to the deaths of women and men. The pandemic and the polarization led to strained relationships. This alongside the murders of black men and women that were documented and continue to penetrate and convict our national consciousness. And this alongside our denomination's response to the General Conference of 2019, the establishment of an alternative Methodist denomination, the legal permission of voting processes in a number of our churches to discern disaffiliation.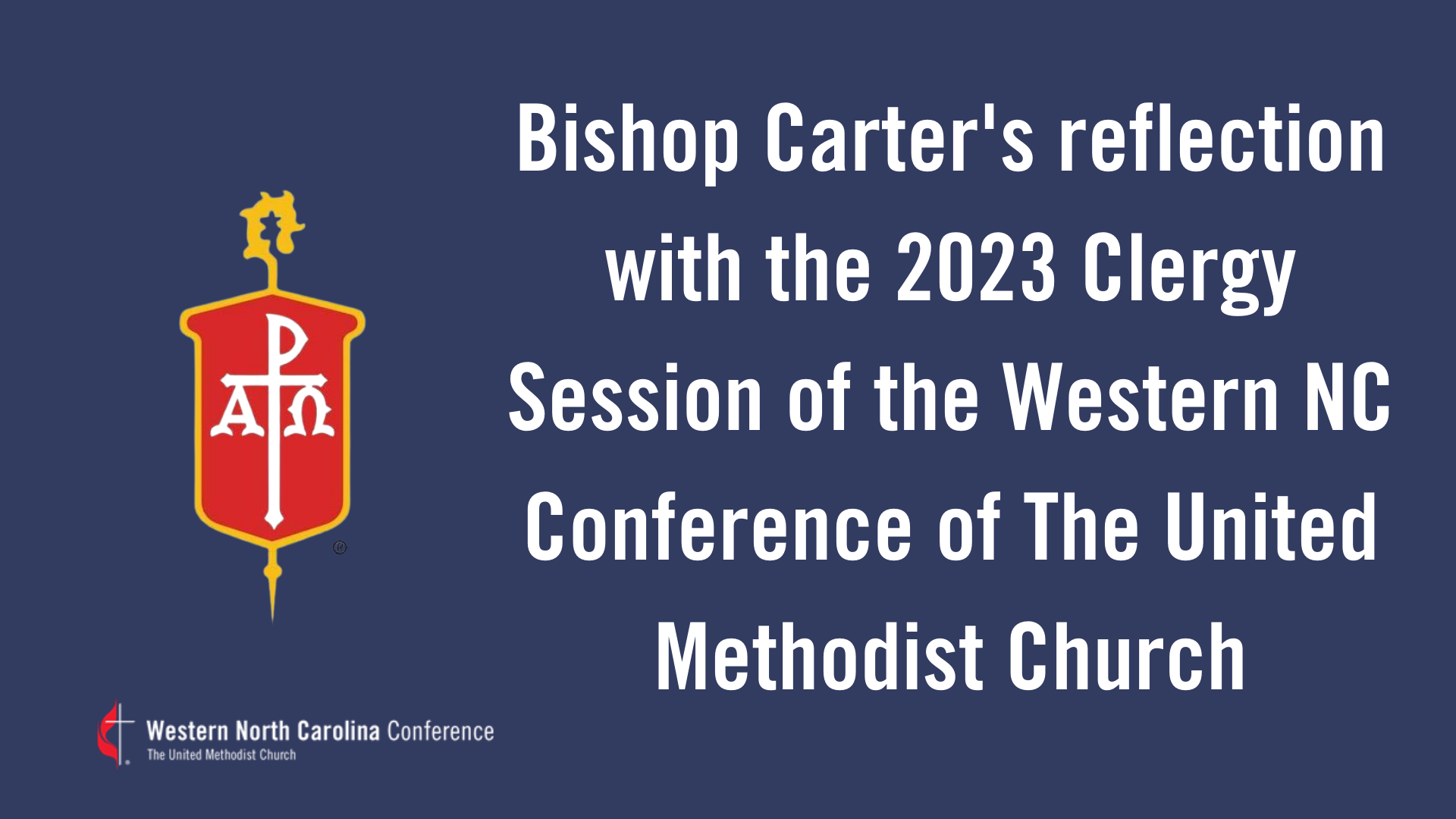 ?
Celebration of the 2023 Ordination and Commissioning Classes
On Thursday evening, WNCC clergy and their families celebrated with an extraordinary Hawaiian theme that the fun-loving people of the WNC Conference lived into! There were snow cones, fruit kabobs, limbo, a hula hoop contest, corn hole, dancing, and more!
"Can we make this an annual thing?" one clergy member asked. "Do you like my flower necklace?!" a young child exclaimed to their parent. Kids and adults of all ages brought out the grass skirts and leis as they laughed, danced, ate, and enjoyed time together.
Thank you to The Board of Ordained Ministry for planning and hosting this celebration for the Class of 2023!
To the ordination and commissioning classes of 2023, we are so proud of you! We are glad you "hula danced" your way to ministry in the WNCC! We are so grateful for your service in the Western North Carolina Conference and celebrate your devotion to your calling and the God who calls you. Well done, good and faithful servants.
Opening Worship of Holy Communion with Guest Preacher Rev. Dr. Candace Lewis

Annual Conference 2023 kicked off with an opening worship for the books!

During the opening processional the District Superintendents, as well as representatives from their districts, carried in stones representing the churches and ministries in their respective areas. Each of these stones was presented at the altar and stacked into an ebenezer, representing not only our connection to one another, but also symbolizing that our help comes from God and one another. The service opened with a blessing for these Foundation Rocks:

"The prophet Isiah says, 'See I am laying in Zion a foundation stone, a tested stone, a precious cornerstone, a sure foundation. And built on the Rock, the Church shall stand."

"Friends," Bishop Carter said, "we are God's house built on living stones. May these rocks brought forth this morning, from the region in which we are called to serve, be that reminder for each of us. Amen."

The guest preacher for opening worship was Rev. Dr. Candace Lewis, President-Dean of Gammon Theological Seminary. The sermon was titled ReUnited and the scripture reading was John 21:1-19.

Reflecting on the story of the disciples found in the morning's scripture reading, Dr. Lewis asked the gathered body, "What 'familiar' do you return to after experiencing grief, loss, disappointment, failure, expected or unexpected change, or transition?"

Dr. Lewis reminded us that when we find ourselves struggling to find hope, struggling to find Jesus, like Peter, we should go to our places that are familiar. Jesus will be there, Dr. Lewis emphasized saying, "Jesus sill meets us in the places of familiar! Whatever it is you named, you can be sure Jesus will meet you there."

"Miracles still happen in a place of familiar…Our hearts can be strangely warmed when we return to our places of familiar…They did not have to go looking for Jesus and neither do you have to go looking for Jesus. You just have to show up in your place of familiar with hearts that are open and Jesus will come to you."

Dr. Lewis went on to say, "Our recognition that lesbian, gay, bisexual, transgender is not just a LGBTQIA+ issue. These are real people in our own churches and in our families. We are each blessed by the same grace, saved by the same cross, and we are all on the journey to holiness. So why not just do it together?"

In conclusion Dr. Lewis challenged those gathered in Stuart Auditorium and gathered online via the livestream to ask ourselves this question – "Do we love Jesus more than our positions, our titles, our own work, our buildings…do we love Jesus more than all these things?... Do you love him more than your privilege? Do you love him more than your power?"

These are questions that will follow us through this weekend and as we travel back to our respective communities.

Watch the full worship service on Facebook at https://fb.watch/lcRM85QuYF/ or on YouTube at https://www.youtube.com/live/C5ixt2IwsdA?feature=share.
2023 Retirees of the WNCC

On Friday afternoon, the members of the Western North Carolina gathered in Stuart Auditorium to recognize the 53 clergypersons retiring from ministerial service in the WNC Conference.

This afternoon, the community came together to honor and recognize the remarkable retirees bidding farewell to their ministries. These esteemed individuals, who dedicated their lives to serving their congregations and The United Methodist Church, were celebrated for their unwavering commitment, compassion, and guidance throughout their years of service, which totals 1,390 years!

The retirements mark the end of an era for these beloved ministers, each of whom has left an indelible mark on their congregations and communities. Their tireless efforts, profound sermons, and acts of kindness have touched countless lives, providing solace, hope, and inspiration to those who sought guidance in times of joy, sorrow, and spiritual growth.

During the ceremony, some heartfelt remarks from Rev. Shirley Canty highlighted the retirees' impact, acknowledging the countless lives they have touched and the transformative power of their ministry.

She advised clergy and laity to "stop competing against one another. We are working together as a unit so let us go forth with that." Rev. Canty concluded with, "If you're not dead, you're not done."

We also heard from Rev. Nina Miller, representing the 2023 Full Connection Class.

Rev. Miller speaks to the Retirees, "Throughout your years in ministry, you have seen so many fires. Who in their right minds would go into full time ministry? But your commitment to step into life's wildfires has blazed a trail for those of us that come behind you."

As they transition into retirement, these esteemed ministers have expressed their intentions to continue supporting the faith community in various capacities. Their wisdom and experience will undoubtedly be sought after, as they offer guidance, mentorship, and encouragement to future generations of spiritual leaders.

In bidding farewell to these exceptional individuals, the community expresses its deepest appreciation for their years of selfless service, devotion, and unwavering faith. Their retirements signify the closing of one chapter but herald the beginning of a new journey, where their legacies will continue to inspire, uplift, and guide those who follow in their footsteps.
Did you miss Wednesday's edition of E-News?
Check Out the Resource Fair at AC2023
The atmosphere was buzzing with excitement as attendees flocked to the vibrant resource fair at AC2023. The fair, adorned with an array of colorful tents and tables, offered an abundance of valuable information and freebies. From innovative ministries to educational materials, the fair provided a unique opportunity for conference participants to explore and engage with a diverse range of resources.
One of the highlights of the resource fair was the abundance of freebies and giveaways. From branded merchandise and promotional materials to candles, keychains, and other beautiful handmade products, participants were treated to a wide array of goodies. The swag bags grew heavier as attendees collected useful items, fostering a sense of excitement and gratitude.
Beyond the tangible resources and freebies, the resource fair served as a hub for networking and collaboration. Attendees connected with representatives from various organizations, fostering relationships that could lead to future partnerships, mentorships, or collaborations. The fair proved to be a fertile ground for ministerial growth and the exchange of ideas.
"We are thrilled with the turnout for this year's resource fair. Vendors include conference ministries, denominational agencies, seminaries, missional organizations, ministry partners, camps and retreat centers. We also expanded our guidelines this year to allow sales, so you'll find displays selling jewelry, candles, books, and other merchandise. Proceeds from these sales go back into ministry and missions. The resource fair will close at 2pm on Saturday (and will not open on Sunday), so you still have time to shop for jewelry for your loved ones, buy a new book for Father's Day, and learn more about these amazing organizations!" said Conference Resource Specialist, Havaleh Havelka. All tents and tables will be open in the lawn outside of Stuart as well as some inside displays in the lower level of Harrell.
The resource fair at the conference was a lively and enriching experience for all participants. It provided a platform for exploration, knowledge-sharing, and connections. As attendees moved from tent to table, they discovered a world of resources and freebies, each offering unique benefits and insights. The fair served as a reminder of the wealth of information and opportunities available within the Western NC Conference, leaving participants inspired and equipped for their future endeavors in ministry.
?
?
About 100 Clergy Women met for breakfast this morning and shared wonderful stories, laughs, and support for each other in ministry.

Bible Study with Rev. Dr. Martyn Atkins

Rev. Dr. Martyn Atkins graced us with profound insights and a captivating presentation that illuminated the scriptures with fresh perspectives.

A round of applause for everyone's determination, perseverance, and incredible feat of completing the Seminaries 5K run this foggy morning!

Beautiful Weather at Lake Junaluska

We are so blessed to have beautiful weather this weekend at the lovely Lake Junaluska!
E-News is an email newsletter sent out by the Western North Carolina Conference of the United Methodist Church. It contains important news, stories, and events from around our conference.
Submit articles for the next e-news. Submit events.

Was this email forwarded to you?
Subscribe here to receive E-News in your inbox weekly!
?
Copyright © 2022 Western North Carolina Conference of the United Methodist Church, All rights reserved.

Where to find us:
Western North Carolina Conference
13924 Professional Center Dr, Ste 200
Huntersville, NC 28078

Mailing Address:
PO Box 2757
Huntersville, NC 28070

Phone: 704.535.2260
AC2023