The Latest Edition of E-News - Annual Conference 2022 Recap #2
June 19, 2022
Quick
Links

Don't have time to read the whole email? Here's your quick summary.
Annual Conference 2022 Continues In-Person at Lake Junaluska
Thank you for joining us at Lake Junaluska for the Western NC Conference of The United Methodist Church Annual Conference 2022! Here are some updates, reports, photos, and more from the first few days of AC2022.
Saturday Morning Conference Plenary Business Session
In the Saturday morning business session, delegates approved the Conference's 2023 budget and heard an update on efforts to reduce the salary gap between clergy of color and white clergy as well as the gap between female and male clergy.
Approval of 2023 budget: The $13.3 million budget represents a decrease of 10 percent from 2022 while still advancing a core group of priorities, including an equitable compensation adjustment, a continuing focus on new church starts and an increase for the Board of Laity to support training and programs.
The past two years have brought substantial challenges resulting from the pandemic, an uncertain economy, international conflicts, and questions over the future of The United Methodist Church.
"We're very sensitive to the economic environment that churches are in right now," Conference Treasurer Mark King said afterward. "We all worked to make sure the budget was a decrease. Churches have to pay less in apportionment, which means they get to keep more."
As many general agencies make budget cuts, the Council on Finance and Administration recommended a return to the general church apportionment amounts from 2021. This will result in an approximate $1 million reduction from the WNCC budget. Further, the conference apportionment segment of the budget is a five percent reduction.
The Conference's pension program includes a requirement that clergy annuitize 65 percent. This means that rather than receiving a lump sum, payments are spread over the lifetime of a clergy member. Delegates voted in favor of a referral seeking an opinion from the Conference Board of Pensions on whether to drop the 65 percent annuity. The issue will be up for discussion again in 2023.
Mark King said the level of support for the budget was a positive signal: "I'm very appreciative of this Conference's trust in the Council on Finance & Administration and the Board of Pension and Health Benefits to accept their proposals so strongly."
Race and gender salary gaps: Rev. Brandon Lazarus presented a joint report from the Just Compensation Task Force and Commission on Equitable Compensation.
Commissioned in 2020 by Bishop Leeland, the Just Compensation Task Force is charged with responding to salary inequality based on race, gender, and years of service. The group is chaired by Rev. Lazarus, pastor of Morning Star UMC in Canton.
Female clergy make, on average, about $7,000 less than their male counterparts and clergy of color make, on average, about $13,000 less than their white counterparts, according to data presented Saturday.
People of color also only represent 8 percent of active clergy in local churches even though 35 percent of North Carolinians are people of color. A petition was put forward to add longevity increases to Base Minimum Compensation. At five, 10, 15, and 20 years of service, clergy will see an increase of the base minimum compensation by about .75 percent per year of service.
For Elders and Deacons in full connection, this equates to:
· 0-5=$43,260
· 6-10= $44,931.65
· 11-15= $46,732.50
· 16-20= $48,672.52
· 21+= $50,762.47
"This report and proposal does not mean the work of the Just Compensation Task Force is done," Rev. Lazarus said afterward. "Our work will not be complete until all experience justice and equity. Your work, too, is not done because this work does not belong to our task force, but to each of us."
Francis Asbury Award:
Rev. Annalee Allen is the recipient of this year's Francis Asbury Award, which recognizes individuals who have made a significant contribution to fostering United Methodist ministries in higher education at the local, district or annual conference level. Honorees are chosen by the conference Board of Higher Education and Campus Ministry.
Annalee is an ordained elder in the WNC Conference and was appointed as the Associate Director of Ministerial Services in June 2016. A native of Franklin, she has been a clergy member of the conference since 2005 and has served several appointments in local churches.
Annalee provides conference staff support and coordination to several programs of the Board of Ordained Ministry including Call and Vocation, Candidacy, and Residency in Ordained Ministry. She also serves as the conference staff liaison to the Board of Higher Education and Campus Ministry and coordinates the 10-week Explore Summer Internship for college students. Congratulations Annalee!
2022 Retirees of The WNCC

On Friday afternoon, the members of the Western North Carolina gathered in Stuart Auditorium to recognize the 56 clergypersons retiring from ministerial service in the WNC Conference.

Rev. Dr. Sarah Kalish opened the service with remarks on the impact these clergypersons have had on the churches, congregations, and communities in which they have served. The clergy retiring this year represent a combined total of 1,664 years of ministry among our conference.

"There are children, youth, and adults across our conference, and in this room," said Rev. Kalish, "who have been impacted by the ministry of the people we recognize today."

As a way to honor the service of our retirees, Rev. Dr. Mark Key shared a new initiative, called Pass-the-Mantle, that will provide scholarship funds to seminary students in honor of our retiring class or a designated retiring clergyperson. If you would like to contribute to this fund in honor of a retiring clergyperson you love, you can do so here.

Rev. Julianne (Jan) Brittain spoke on behalf of the 2022 retirement class. Rev. Brittain began by referencing a metaphor first introduced during Annual Conference by guest worship preacher, Rev. Dr. Edgardo Colón-Emeric, Dean of Duke Divinity School.

"We have wounds," Rev. Brittain remarked. "We have wounds that have healed and are marked by scars. We have wounds that are open and still painful…But with God on our side, we have wings."

Rev. Brittain went on to remind the young and new clergy of the conference to remember that, though the journey is hard, no clergyperson has to do the work of ministry alone.

"You have partners in your peers, your district office, and the Conference office. All of these partners; look for them, cherish them. They are the greatest gift…You cannot pull the wagon alone. Thank God we don't have to."

Rev. Katherine (Kathy) Randall Bryant spoke on behalf of the 2022 full connection class. Using the metaphor of a box of Legos, Rev. Randall Bryant spoke of the beautiful creations the many pieces of the retiring class's ministries have built.

"Of course, there are some pieces we've been breaking apart, some with necessary urgency, like the white supremacy, racism, and sexism entrenched in our system," Rev. Randall Bryant said. "The ramifications of an ongoing two-year global pandemic continue to affect us. Some pieces are leaving of their own accord, and some are being broke apart."

"We will use these pieces," Rev. Randall Bryant promised, "to continue to build on the work that you have laide before us, that God continues to lay before us. We will spread the table wider and include more people who are created in the image of God."

Bishop Carter closed the service with a blessing he learned in Wesley Youth Fellowship, the Lord bless you and keep you. Thank you, retirees, for your service among us.
UNITED METHODIST FOUNDATION

United Methodist Foundation Annual Meeting

Foundation announces largest ever gift to the Conference

The Foundation celebrated present and future leaders and affirmed its commitment to building the Church for generations to come during an Annual Meeting of the Membership on Saturday morning in Stuart Auditorium.

Board Chairman Tom Jordan presented the Foundation's largest ever contribution toward Conference initiatives, a gift of $217,000 in support of the Comprehensive Plan of Equity, Peacemaking in Communities and Strengthening "First" Churches across Western North Carolina.

There was a time of celebration to mark the 20-year anniversary of David Snipes as president and CEO.

"To work with David has been an absolute joy," Conference Treasurer Mark King said in a video highlighting Foundation growth and leadership. "I really am proud that he has been here for 20 years, which is a milestone in any religious organization."

For the first time in its 45-year history, the organization has a female chair-elect. Anne Martin described the Foundation as a steadying influence during seasons of change in the Conference and broader denomination.

"Our goal is to remain that way long into the future," she said. "With your help, by allowing us to be in partnership with you, that goal will be fulfilled."

The newly elected board includes Class of 2025 returning members Mark Bailey, Wanda Musgrave, Dave Mildenberg, Steve Wilson as well as newcomer Melvin Scales, a talent management consulting professional who resides in Winston-Salem. Melvin attends St. Paul UMC in Winston-Salem.

Foundation leadership recognized the faithful service of Tom Jordan, who is stepping down as board chairman at the conclusion of his term. Tom joined the board in 2008 and served on the Marketing, Clergy Debt Reduction and Executive Teams before becoming chair in 2017.

A gift in Tom's honor will support one of his favorite causes, the Matt Brown Learn-to-Swim Endowment, committed to making water safety available to all second-grade students in Guilford County Schools.

Following the presentation of the $217,000 gift, David reflected on the Foundation's early days when it depended on the Conference for operating funds and even office space. It was always the goal, he said, to someday give back: "With the trust that has been placed in us… the Foundation has achieved this dream."
Celebration of Life Worship Service with Guest Preacher Rev. Dawn Hand

On Saturday morning, June 18, 2022, the Western NC Annual Conference gathered to remember the lives and ministries of 80 clergypersons and clergy spouses who have passed away within the last year – remembering each of them by name, lighting a candle and ringing a bell for each one.

"We come to hold the trauma of your pain between colleagues, friends, and family," said guest preacher, Rev. Dawn Hand.

After opening with a call to worship, prayer, and the congregational singing of For All the Saints, those gathered were blessed by the special music of Matt and Noah Gravely and Daniel Habib.

The sermon, titled "In Glory Shine," was delivered by Rev. Dawn Hand, Central Maryland District Superintendent in the Baltimore-Washington Annual Conference, who encouraged all those grieving and those joining them in this moment of grief to remember the light that shined through their loved ones and see the love of God through those moments.

"I know you are praying, 'God, one more time to feel their loving embrace. One more time to have a meal together at a restaurant. One more time to tousle over the remote…One more time to be in the light of their presence," Rev. Hand sympathized, as she had also recently lost a loved one.

As we remember the lives of those whom we have lost this year, Rev. Hand reminded us how their lights shined during their time on earth, and how we experienced God's love through their shining lights.

"In dark places of isolation, their light shined," Rev. Hand reflected. "In the hollows of addiction, their light shined…At home nurturing and raising family, their light shined. In hospital rooms and nursing homes, their light shined…When a call came from God for justice, their light shined…In VBS, taking a pie to the face to prove they're a 'cool' pastor, their light shined…When someone was needed to fill a role in the church, teaching or singing in the choir, there a spouse was shining their light."

"Your loved one had light and love shining through them…for the glory of God, inviting and bringing people into relationship with Jesus Christ…Could it be that light is the transforming power of God's love?" Rev. Hand inquired.

Perhaps the most poignant moment came when Rev. Hand reminded those gathered that "not all dark places are bad places…There is grace in grief."

Rev. Hand brought those gathered to their feet in applause as she concluded her sermon with a powerful reminder that when we find ourselves standing in Glory in the presence of The Light, there will be no "-isms" – no racism or sexism, no "red sides or blue sides," no us and no them. When we stand in God's presence, "everybody is somebody." Thanks be to God.
Did you miss Friday's edition of E-News?
UMsConnected: A New Initiative
UMsConnected, a new ministry based in the Florida Annual Conference of the UMC under the supervision of Bishop Ken Carter, has launched. It has come into being as the new United Methodist Church emerges. In this historic time of change, there are a variety of reasons why people feel disconnected. UMsConnected is a community walking together during this time of transition, "watching over one another in love," as John Wesley put it.

He also often referred to the Methodists as "the Connection". Even though scattered about, the early Methodists practiced their faith with a spirit of unity and fellowship. UMsConnected takes its name from this heritage, and with the same aim of experiencing life together through in-person and digital means. UMsConnected stands at the intersection of spiritual formation and the Wesleyan tradition. The mission is expressed in these ways...

Vision: To nurture participants in an inclusive theology of love which ignites personal and social holiness in ways that increasingly conform us to the image of Christ.

Intention: To provide in-person and digital Wesleyan formation opportunities.

Means: To develop resources that facilitate Wesleyan formation, beginning with these things...
-a website that serves as the anchor point
-a group Facebook page that provides daily encouragement
-a weekly podcast that addresses formation themes and matters related to the movement

Live and on-demand resources will be added that individuals and groups can use to grow in the grace and knowledge of Christ. UMsConnected will also link with existing ministries (e.g. Path 1 and Amplify Media) to further enrich this ministry.

Everything in UMsConnected is open access. But individuals and groups are encouraged to affiliate with the movement. UMsConnected does not have members, it has participants. We "belong" by practice. Information for joining the journey is on the website: www.umsconnected.com.

Beyond the programmatic aspects of UMsConnected, we know some participants will need pastoral care in new and different ways. Means for providing this will be designed.

To learn more about UMsConnected, go to the website. Category icons at the top of the homepage describe the ministry more fully. The current "Connections" newsletter is there as well.

As you familiarize yourself with the UMsConnected movement, feel free to contact the ministry director, Dr. Steve Harper, to share thoughts, ask questions, etc. His email is umsconnected@flumc.org.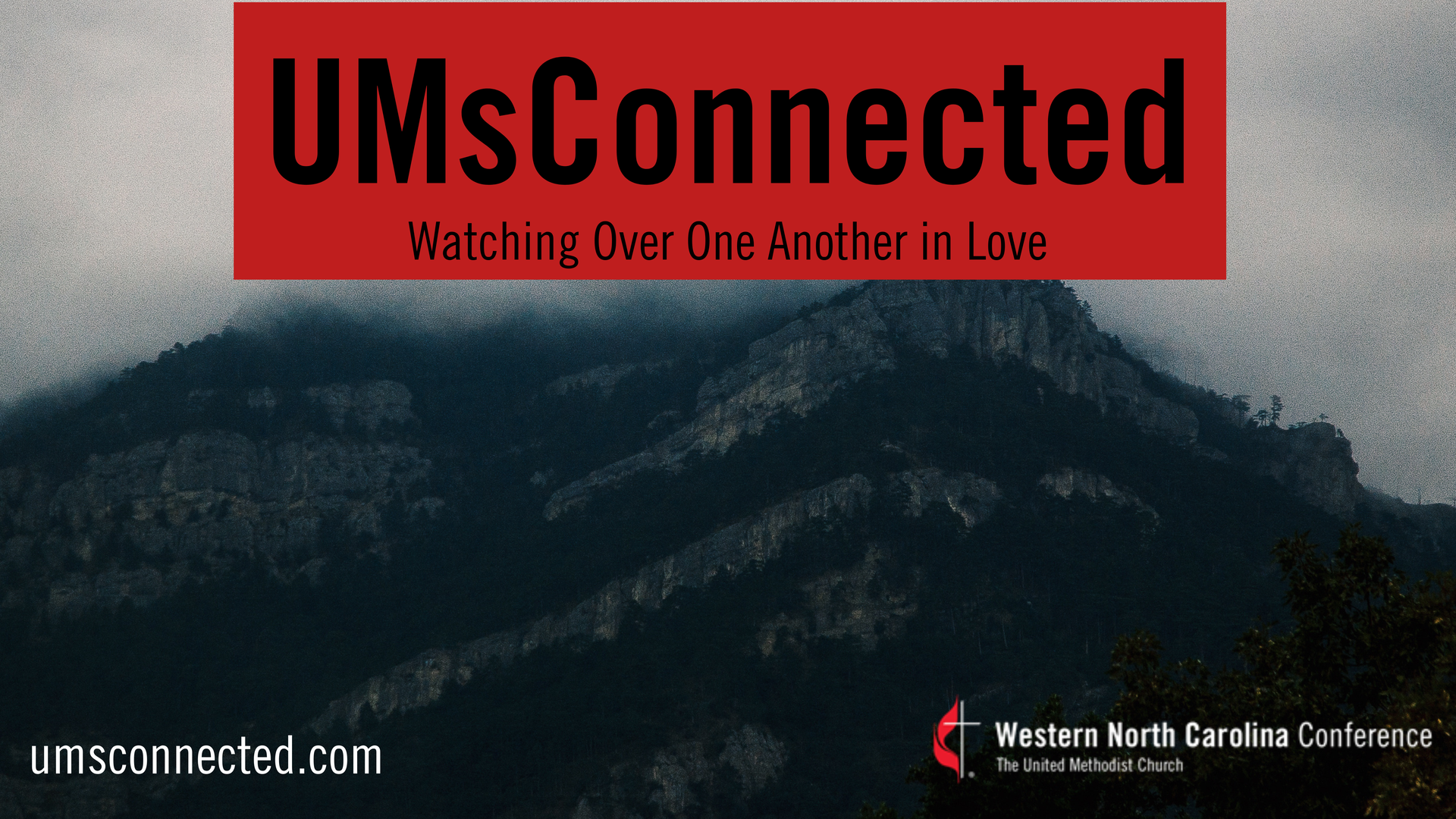 Join Us for the Juneteenth Celebration Following AC2022
Join us Sunday, June 19th, following Annual Conference for a Juneteenth Gospel Celebration in the Nanci Weldon Open-Air Gym at Lake Junaluska. There will be music, worship, food, and fun for the whole family! More info on the celebration HERE.
E-News is an email newsletter sent out by the Western North Carolina Conference of the United Methodist Church. It contains important news, stories, and events from around our conference.
Submit articles for the next e-news. Submit events.

Was this email forwarded to you?
Subscribe here to receive E-News in your inbox weekly!
Copyright © 2022 Western North Carolina Conference of the United Methodist Church, All rights reserved.

Where to find us:
Western North Carolina Conference
13924 Professional Center Dr, Ste 200
Huntersville, NC 28078

Mailing Address:
PO Box 2757
Huntersville, NC 28070

Phone: 704.535.2260
AC2022