The Latest Edition of E-News - Pray for the California-Pacific Conference, Register for the Retiring Well In Person Webinar, and more!
August 23, 2023
Quick
Links

Don't have time to read the whole email? Here's your quick summary.
?
Pray for the California-Pacific Conference
Today, our fervent prayers continue for our sisters and brothers in the California-Pacific Conference. Recently, the Western NC Conference sent $10,000 to the Cal-Pac Conference to help with relief efforts following the devastating fires in the Lahaina community on the island of Maui. The funds will support the congregation of Lahaina United Methodist Church, whose building was completely lost in the fire.

Today, while still reeling from the grief and loss of the Maui fires, the Conference is also facing the incredible damage brought by the flooding and mudslides caused by Hurricane Hilary.
We will share ways to support Hurricane Hilary relief efforts as those resources are made available.
?
?
?
Bishop Ken Carter to Preach on "Day 1"
The Rev. Dr. Kenneth H. Carter, Jr., resident bishop of the Western North Carolina Conference of the United Methodist Church and bishop in residence at Duke University Divinity School, is the featured preacher Sept. 10 on "Day 1" with host Peter Wallace, the nationally broadcast ecumenical radio program also accessible online at Day1.org and by podcast.
"A Generous Orthodoxy for the Healing of the Church" is based on Matthew 18:15-20, a passage in which Jesus gives his disciples instructions for dealing with sin and division in the church. "Imagine the great things God might accomplish if we discovered an orthodoxy in service of the healing, and not dividing, of our bodies, that is, our churches," he says.
The programs include interviews with Carter conducted by Wallace, who is also executive producer.
"Day 1" has been broadcast every week for more than 78 years, formerly as "The Protestant Hour." Featuring outstanding preachers from the mainline denominations, "Day 1" is currently distributed to 200 radio stations across America and overseas, and the "Day1 Weekly Program" is on all podcast apps. The program is produced by the Alliance for Christian Media, based in Atlanta, Ga. "Day 1"® is registered in the U.S. Patent and Trademark Office by the Alliance for Christian Media, Inc.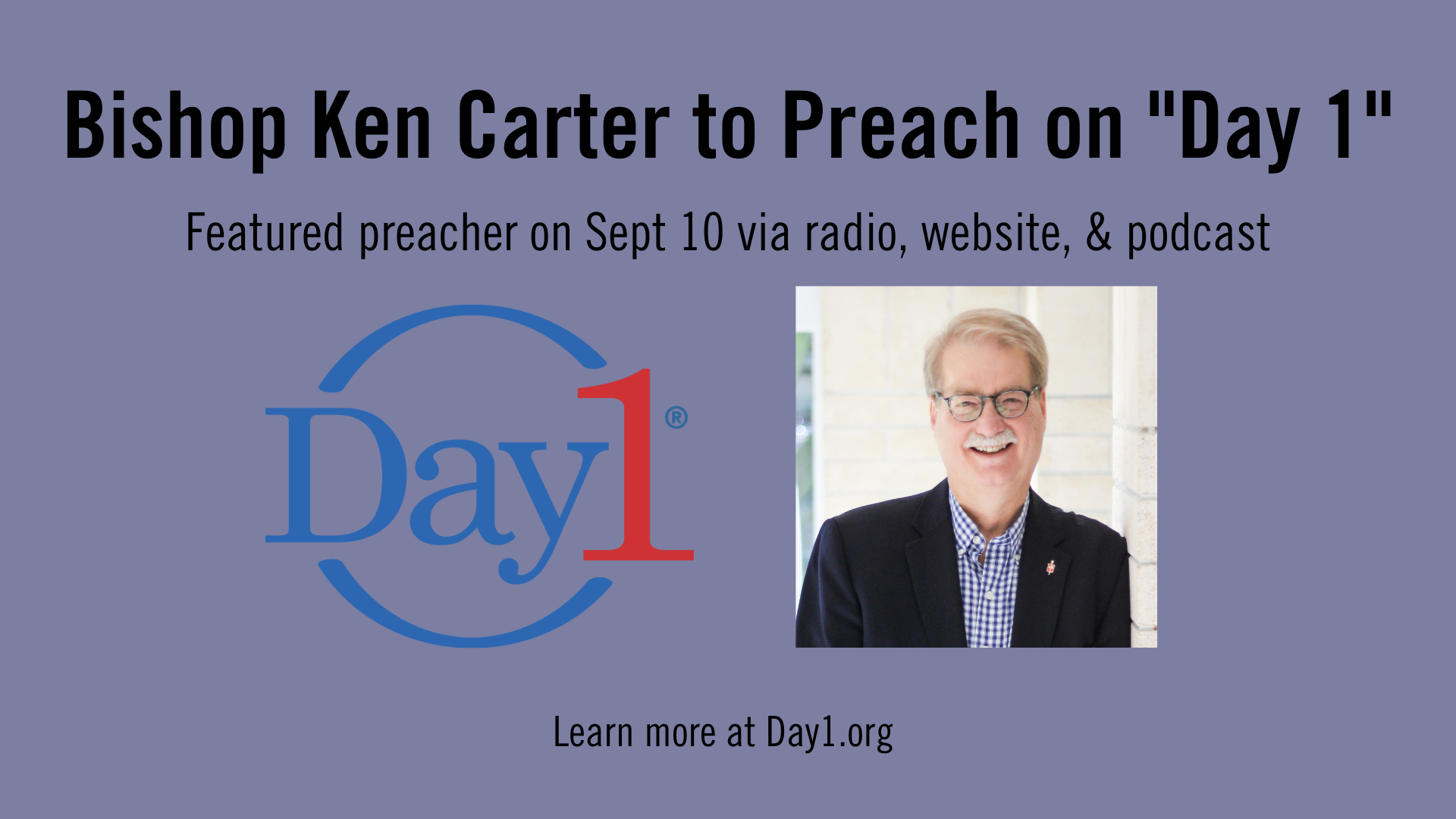 ?
Good News, Nomination Team Members! Nomination season is almost here for UMC congregations in the Western North Carolina Conference, and we are gearing up to offer you guidance and support as you invite leaders into the ministry of your local congregation for 2024!

Mark your calendars (and RSVP, please) for

More than the Methodist Shuffle:

A Guide for Nominating Your Best Local Church Leaders

Sunday, August 27 | 4-5:30pm | Zoom

During this training, we will:

Offer you a practical process for casting a wide net to assemble the largest possible pool of leaders

Help you move from doing the Methodist Shuffle* each year, to discerning the healthiest and most effective leaders to nominate

Create space for you to hear from the experience of others, and to share your questions with a group of other serving in the nominations process

Rev. Dr. Mary John Dye, former District Superintendent and now Retired Elder in the Western North Carolina Conference, will offer words of wisdom as we take on this meaningful challenge together. Please RSVP (the form simply asks for name, email, and if you will attend) to help us prepare.

A term we affectionately use to describe moving the same people around to different leadership roles from year to year.

*

?
Intersection of A.I. and Ministry

If you use a smartphone, then artificial intelligence is already a part of your life. How has AI made its way into our churches, ministries, and lives of faith?

The Office of Church Development of the WNCC is hosting a series of 4 webinars, continuing August 28th, that will consider the Reality, Impact, Theology, and Ethics that are already occurring as artificial intelligence intersects with the faith ministries we participate in every day. Facilitated by Jason Moore, each webinar will consider how A.I. is currently being utilized in ministry settings, interact with practitioners, hear from theologians, and create a forum for us to talk together about how this might impact ministry right now and what we need to consider as we move into the future.

The second Webinar will be Monday, August 28th, at 7 pm. Register today!
Pre-Retirement In-Person Webinar: Retiring Well

For Clergy 3-5+ years from retirement. October 16-17, 2023 at the Conference Office in Huntersville.

Hear engaging presentations with representatives from Wespath and Treasury Services. Register before September 26th and a personalized, confidential Benefit Projection will be mailed to you. PLUS sign up for a 20-minute individual consultation with a member of the Wespath team during our time together. Spouses are welcomed to join the event and consultation!

Register HERE.

Springhill Suites by Marriott Hotel Accommodations HERE.

?
Is The UMC Really...? Series Part 4

With some congregations considering leaving The United Methodist Church or just wondering about its future, Ask The UMC offers a series of questions and answers to help clear up some common misperceptions or misinformation around disaffiliation.

This is part 4: Answering Questions, Addressing Misconceptions, & Countering Misinformation Around Disaffiliation

Ask The UMC continues to answer questions, address misperceptions, and counter misinformation about The United Methodist Church and the process of disaffiliation from it.

Questions answered in this article:

Is The UMC Really....?

1. Allowing congregations that disaffiliate to retain their current appointed pastor or deacon?

2. Ending United Methodist Church memberships of those whose local church disaffiliates?

3. Permitting 10% of the professing members of a local church to sidestep conference requirements that a request for a church conference to vote on disaffiliation come from a church council or other leadership body of a local church?

?
Did you miss the last edition of E-News?
?
Clergy Can Get Help With Paying Off Debt
Too many of our Western North Carolina clergy have to choose between paying off loans and taking care of personal and family needs. This is why the Clergy Debt Reduction Loan Program was created in 2016 in partnership with the Western North Carolina Conference Board of Pension and Health Benefits and The Duke Endowment.

Participants save an average of $350 per month by refinancing at the very favorable rate of 1.5 percent. It's not just educational loans. Clergy (and spouses) can also get help with unsecured debt - the student loan maximum is $100,000 and the consumer debt loan maximum is $80,000.

Apply by Sept. 15 and begin your journey toward financial freedom.
?
Connect Church Application Now Open
Applications are now being accepted for the 2024 cohort of Connect Church, a program of Faith in Rural Communities at the NC Rural Center. Connect Church is a nine-month learning cohort aimed at helping churches renew their faithful witness and connect with opportunities to improve the health and prosperity of their communities. A small group of people from each accepted church will work with an experienced coach to have a better understanding of their church's assets and how to use them for the benefit of their community. Upon completion of the program eligible churches may apply for a grant of up to $10,000 to launch a new or expanded missional engagement project. The deadline to apply is September 30, 2023. Connect Church is funded through the generous support of The Duke Endowment.
?
Church Reno or Remodel? Sold your Parsonage? Let us know!
The Conference Office is collecting information for the 2023 Journal, and we want to hear from you! As in years past, we're requesting churches report renovations, remodeling, new buildings, dedications, etc. that took place over the past conference year. You can view the 2022 journal online for examples, and if in doubt about whether to include something, please do! Pastors, church admins, or trustees are invited to share about through an online survey.
To make this quick and easy, we have created an online form to share these changes. Please submit the online form by Thursday, August 31.

If you had no changes at your church or parsonage, please do not submit the form! If you have questions, please contact your district office!
?
Mission Journey Preview Weekend
Prospective Mission Trip Leaders...You're invited to the upcoming Mission Journey Preview Weekend taking place on September 22-24 at Lake Junaluska!
The event starts at 5:30pm on Friday, September 22nd, with a driving tour of local areas negatively impacted by extreme flooding from Tropical Storm Fred in August, 2021, and culminates with an outdoor "Church in the Wild" worship service on Sunday, September 24th at 9:00 am, which will be led by the Rev. Jonathan Brake, Program Manager of Environmental Sustainability with the General Board of Global Ministries, commissioned UM EarthKeeper, and founder of the WNCCUMC Creation Care Ministry Team.
?
Order Your BMCR Polo Shirt
There were several inquiries regarding the BMCR polo shirts worn during the Western NC Annual Conference. Now's your opportunity to order and wear your shirt too!
This year's Annual Meeting of the Southeastern Jurisdiction Black Methodists for Church Renewal will be held in Charlotte, NC. That's right! We will host the meeting right here in our conference. Bishop Carter along with other SEJ bishops and guests will join us.
Be sure to order your polo shirt by September 15th for arrival by October 25th just in time for SEJ BMCR.
?
2023 CPS Early Bird Discount Deadline
There is only one week left in the Early Bird discounted registration for the 2023 Convocation & Pastors' School at Duke Divinity School. After August 31, the price of registration increases. The event will be October 15-17, 2023. We are excited about our fantastic line-up of speakers including Erin and Ben Napier of HGTV fame and Kate Bowler. Register soon to lock in the Early Bird discount. This year registrants may bring a guest (e.g. clergy spouse or prospective seminary student) for a reduced rate.
E-News is an email newsletter sent out by the Western North Carolina Conference of the United Methodist Church. It contains important news, stories, and events from around our conference.
Submit articles for the next e-news. Submit events.

Was this email forwarded to you?
Subscribe here to receive E-News in your inbox weekly!
?
Copyright © 2022 Western North Carolina Conference of the United Methodist Church, All rights reserved.

Where to find us:
Western North Carolina Conference
13924 Professional Center Dr, Ste 200
Huntersville, NC 28078

Mailing Address:
PO Box 2757
Huntersville, NC 28070

Phone: 704.535.2260