The Latest Edition of E-News - 2023-2024 Projected Local Church Appointments, Meet Up with Bishop Carter Tomorrow at Merlefest, and more!
April 27, 2023
Quick
Links

Don't have time to read the whole email? Here's your quick summary.
?
Bishop Carter and Appointive Cabinet Announce Projected Clergy Appointments to Local Churches
Bishop Kenneth Carter and the appointive cabinet of The Western North Carolina Conference of The United Methodist Church, in consultation with the clergy and authorized lay leaders of the local churches, announce the following projected appointment changes, to take effect July 1, 2023. This act of ministry is in fulfillment of paragraphs 425-429 of the 2016 Book of Discipline. Clergy in extension ministry will be included in the final report shared with the annual conference in June.
"This has been a complex season of appointment-making", Bishop Carter noted. "Many churches are still re-gathering after the pandemic. A number of our churches engaged in discernment around disaffiliation from the denomination; we will act on these decisions on May 6. And yet the faithfulness of laity who love their churches and the commitment of clergy to their callings is inspiring. As we live in 'the great 50 days', we claim the presence of the Risen Christ and the power of the Holy Spirit, even and especially in these transitions."
Let us lift these clergy, their families and the local churches in prayer, in the hope that we will all more fully participate in our mission— "to make disciples of Jesus Christ for the transformation of the world" (Book of Discipline, ¶ 120).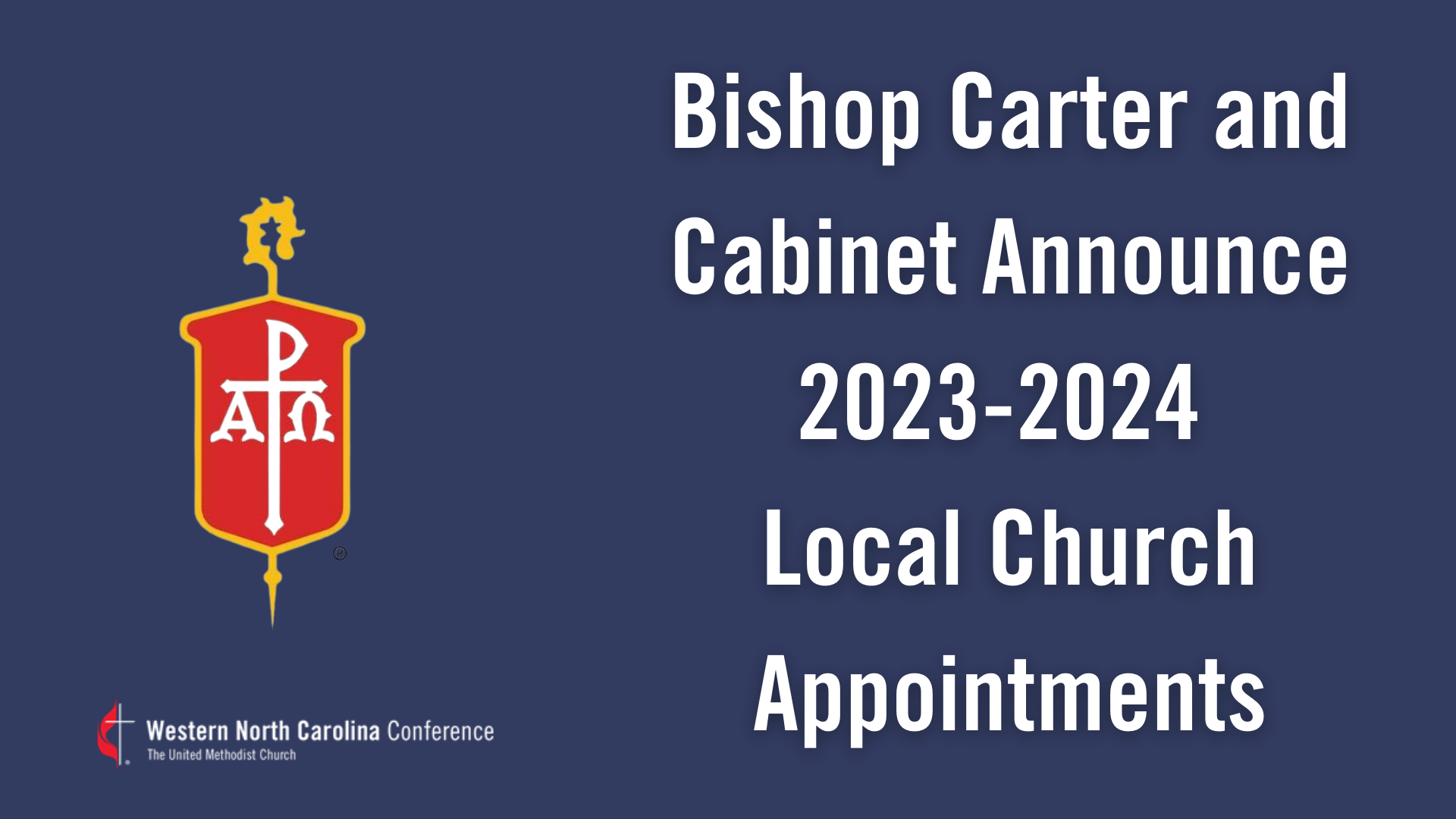 ?
?
Information on the May 6th Special Session
Get all the information you need about the May 6th Special Session. The webpage will frequently be updated with more information as the date approaches.
For Lay Participants: Get your Lay Participation Information HERE.
?
The Latest AC2023 News and Updates

A few rooms on-property are still available for AC2023 – make your reservation now! Lake Junaluska is also taking pre-order requests for dining room meals during conference. To guarantee your breakfast, lunch, and/or dinner on-property during conference, use the Advanced Meal Purchasing link to pick your meal plan!

Delegate Voting: At the 2023 Western North Carolina Annual Conference meeting in June, there will be lay delegate elections for the General Conference and Jurisdictional Conference meetings scheduled in 2024. Laity will elect 2 or 3 lay delegates, as well as 3 reserve delegates, to fill openings that occurred because of lay member resignations since 2019 when the original elections took place.

AC Displays: Applications for Annual Conference Resource Fair displays are live! You must apply by May 1, 2023 to have a display at the 2023 Western NC Annual Conference, June 15-18. Please take note of the new addition this year – sales! Groups may sell products to support their ministry/mission efforts.

AC Special Events: Lake Junaluska is now accepting requests for booking special events at Annual Conference!
Merlefest Meetup with Bishop Carter TOMORROW!

Join Bishop Ken Carter at Merlefest on Thursday, April 27th for a conversation around four questions. We'll meet up at the UMC Tent inside the festival at 3pm and find a place close by to chat. After our conversation we'll go listen to some good bluegrass! This is in partnership with the Fresh Expressions Adventurer's Leadership Academy and the Appalachian District of the United Methodist Church's presence at this festival. You don't have to register to attend the conversation, but if you do we'll bring you a free copy of Bishop Carter's new book! Contact Luke Edwards if you have any questions at ledwards@wnccumc.org.

?
Is The UMC Really...? Series

With some congregations considering leaving The United Methodist Church or just wondering about its future, Ask The UMC offers a series of questions and answers to help clear up some common misperceptions or misinformation around disaffiliation.

This is part 11: Process of Voting on a Motion to Disaffiliate

This eleventh installment in our series addresses questions we have recently been asked about the process of voting on disaffiliation in local churches.

Questions answered in this article:

Is The UMC Really....?

1. Requiring that only professing members of the local church, and all professing members of the local church, are eligible to vote on a motion to disaffiliate at a called church conference?

2. Requiring that persons be present at the church conference in order to have vote on a motion to disaffiliate?

3. Counting votes to abstain as votes against the motion to disaffiliate?

4. Validating voters as eligible to vote?

5. Requiring a written, secret ballot?

6. Providing for the security of the ballots cast?

?
Did you miss the last edition of E-News?
?
Renewing Rural Ministry Through Fresh Expressions
Join the Uwharrie District on Saturday, May 13, 2023 from 9:30am-3pm at Hood Theological Seminary for a day of learning and dreaming about fresh expressions of the rural church. Bring a team and spend the day learning from Rev. Dr. Michael Beck, author of Fresh Expressions of the Rural Church, as we discover how Fresh Expressions can bring new life to ministry in rural areas. The day will be part teaching, part brainstorming, where you and your team will have an opportunity to work out hopes and next steps on your Fresh Expressions ideas no matter where you are in the Fresh Expressions Journey (listening, loving and serving, building community, church taking shape). Lunch is included in your registration.
?
Journey to Joy Women's Retreat
Enjoy a weekend of laughter, sharing, worship and fellowship at a Journey to Joy Women's Retreat at Lake Junaluska. Led by Leigh Young, these retreats offer an opportunity to come together for spiritual renewal. Come on your own and make new friends, or come with members of your small group, women's group, or friends and family – and friends and family in the faith – to grow closer together.
August 25-27, 2023 | November 10-12, 2023
?
Church Management Seminars
Three Church Management webinars will address 1) Managing Change and Conflict in the Church, 2) Human Resources and Organizational Leadership and Development in the Church, and 3) Marketing in the Church. The webinars will take place on three consecutive Tuesdays in May: May 9th, 16th, and 23rd.
The WNCC Leadership Development Team has identified these webinars as sponsored offerings and WNCC leaders are eligible for scholarships to cover 2/3 of the cost. Information and the scholarship application can be found at the link below.
?
Clergy Discretionary Funds Webinar: What You Need to Know
Register today for the Clergy Discretionary Fund Webinar taking place on May 23 at 12pm EST.

Churches and annual conferences often establish funds intended to give pastors and Bishops complete discretion and authority, usually to provide confidential financial help to those in need or fund programs that previously had not been budgeted.
But discretionary funds can cause clergy to unknowingly run afoul of IRS regulations and can result in unintended tax consequences.
Join GCFA's General Counsel Bryan Mills as he explains what you need to know to protect your donors and your ministry on Tuesday, May 23 at 11 a.m. CDT via Zoom.
?
School of the Spirit - Cohort #14 Starting Soon
Have you been praying about participating in School of the Spirit this year? Are you or someone you know longing for something deeper in your spiritual life?
We have a few spots left for our next Cohort - Apply Now to begin this Summer.
Journey with other clergy and leaders who long to reclaim the practices and experiences that spiritual seekers down through the ages have used to open themselves to God's transforming work.
E-News is an email newsletter sent out by the Western North Carolina Conference of the United Methodist Church. It contains important news, stories, and events from around our conference.
Submit articles for the next e-news. Submit events.

Was this email forwarded to you?
Subscribe here to receive E-News in your inbox weekly!
?
Copyright © 2022 Western North Carolina Conference of the United Methodist Church, All rights reserved.

Where to find us:
Western North Carolina Conference
13924 Professional Center Dr, Ste 200
Huntersville, NC 28078

Mailing Address:
PO Box 2757
Huntersville, NC 28070

Phone: 704.535.2260